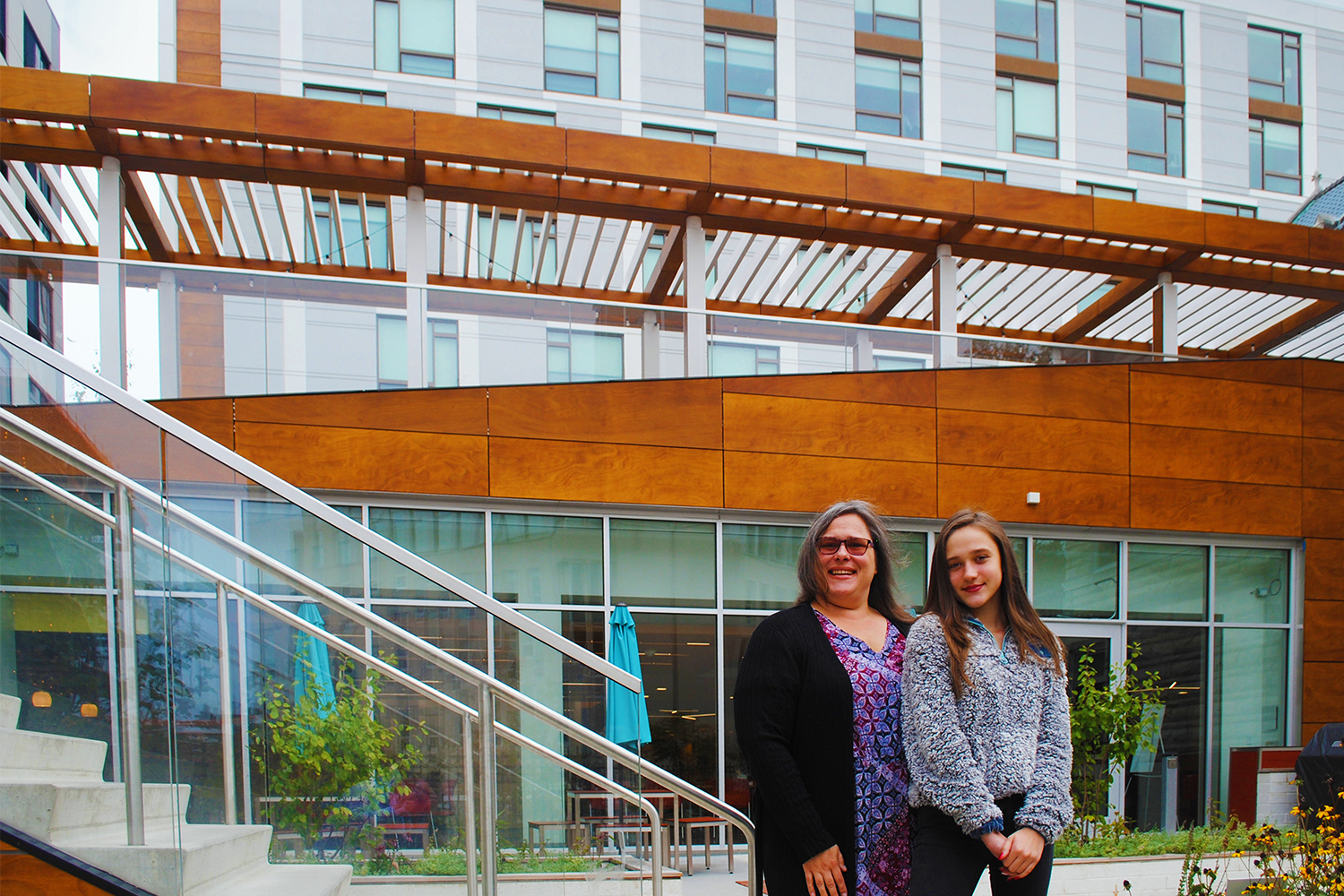 Room to Grow: How this Ronald McDonald House Became a Home
Christiane Osoweicki and her family spent eight years living at the Ronald McDonald House in Philadelphia. They never thought they would be back, but when they returned last year, the House was unrecognizable from the one they lived in almost a decade ago.
Christiane Osoweicki brought her family to the Ronald McDonald House in Philadelphia 15 years ago. Her first daughter was born ten weeks early and with a host of medical complications. Despite her persistent condition, she grew up to be a happy child, accustomed to living in a home shared with several other families.
"She made people feel like they were the most important person she's ever met," said Christiane. "She was always excited to see every person she came in contact with."
As the years passed, Christiane's family visited the House often. They learned to walk there. They spent Thanksgiving, Christmases, and birthdays at the PRMH for nearly a decade. "This was home," said Christiane.
During that time, her daughter's condition persisted and despite her long and hard-fought battle, she passed away at the age of nine. The family left the House thinking they'd never be back.
We Need a Bigger House
The Ronald McDonald House in Philadelphia is the first-established House in the network of roughly 375 worldwide today. It was conceived by local pediatric oncologist Dr. Audrey E. Evans in 1974 with the help of then Eagles General Manager Jimmy Murray the Eagles' sponsor McDonald's. When it originally opened, it had enough room for seven families. In 1981, the organization took up residence in the historic Victorian mansion at 3925 Chestnut Street in West Philadelphia. The House expanded to 45 rooms in 1994 and broke ground on a new tower in 2017, with generous donations from corporations and individuals, including a multimillion-dollar donation from philanthropists Jill and Alan B. Miller. Philadelphia's medical landscape had flourished in recent decades leading to an influx of families and patients in need of accommodations. The increased demand pushed the House to capacity and this expansion allowed the organization to help more than twice as many families and modernize its West Philly location and tapped EwingCole to design the project.
The project spans 93,000 SF and includes an attached, eight-story tower containing hundreds of additional rooms – dramatically altering the House's capacity and aesthetic. Comfort and healing were the guiding principles of the renovation and expansion. Every detail is curated to provide the families with the comforts of home, allowing them the freedom and space to focus on healing while fostering a community of support for one another.
"Before the expansion, we would have to turn away thousands of requests every year due to a lack of available rooms. This meant that families would have to find other accommodations until a room would open up—if at all," said RMHC of the Philadelphia Region CEO Susan Campbell. "We always want families to feel comfortable and welcomed as soon as they step through our doors, and that helped guide a lot of our decisions."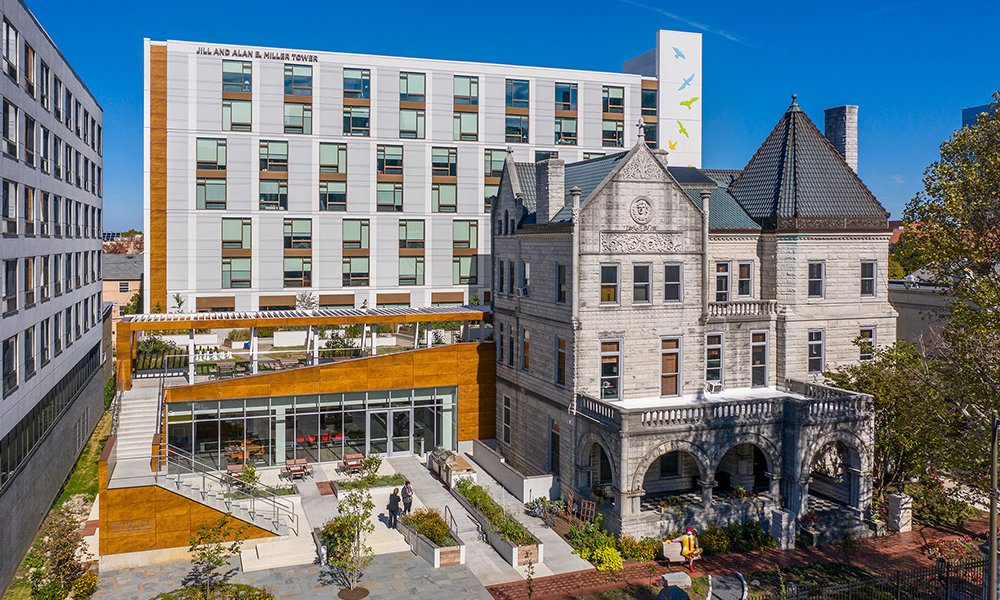 Unrecognizable
Growing up in Jackson, New Jersey, Alyssa Osoweicki, Christiane's 14-year-old daughter, became an avid roller-skater.  It's one of her favorite activities. She skates competitively and even teaches her younger peers the sport in her free time. It isn't an easy sport to learn at first. Scrapes, falls, bumps, and bruises are inevitable. Despite this, she's undeterred. She loves it too much to quit.
While scrapes can be treated with knee and elbow pads or a band-aid from mom, last year, she woke up to something she didn't anticipate. She had a lump on her abdomen; one she didn't get from a skating accident. She told her mother and they quickly decided she needed to see a doctor.
After a series of appointments and tests, Alyssa was eventually diagnosed with a rare teratoma - a noncancerous tumor. Her family traveled from their home in Jackson to the Children's Hospital of Philadelphia, where the teratoma was surgically removed. Unfortunately, doctors told her it would inevitably return, and when it did, her immune system would likely attack healthy systems and organs while trying to stave off the persistent tumors. Alyssa and her family began to prepare for the long medical battle ahead.
Her treatment requires being in and out of hospitals frequently. The only hospitals equipped to treat her disease are in Philadelphia, a little more than an hour's drive from their home. Making this trip on a daily basis was out of the question, so the Osoweickis needed to find a temporary place to stay in Philadelphia while Alyssa undergoes treatment. Short-term lodging like a hotel or an apartment was financially unfeasible, so they turned to the one place they knew could help – the Ronald McDonald House.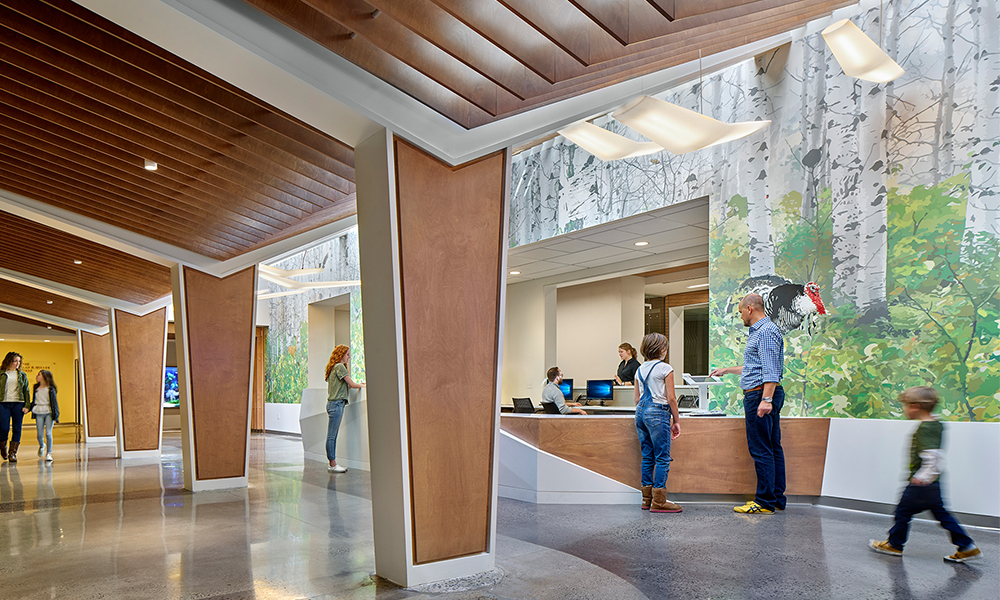 Upon returning to the House they had left behind several years earlier, the historic Victorian mansion they once lived in was now connected to a brand new, eight-story tower surrounded by lush garden space. As they entered the remodeled House, sunlight poured through the lobby skylight. Murals of green landscapes and wildlife framed the concierge's desk. Wooden fins lined the ceiling like geometric waves, breaking up sunlight like a garden pagoda as it hit the furnished lobby below.
"When I walked into the house I was completely floored. I mean I almost literally fell to the floor," said Christiane. "We were completely stunned and amazed by it all."
The Little Things
Throughout the years, the House tried to accommodate as many families as possible, and conditions before the redesign were tight. Christiane's first daughter was on a multitude of medications, many of which required refrigeration. There were limited amenities like personal refrigerators to store food or medicines when they first lived in the house. Back then, guests had to navigate winding halls and stairways within the mansion to retrieve their medications at all hours of the day and night.
"She needed medication every hour. By the time you got back up the stairs, it was almost time to go back down again," said Christiane. "If you didn't have two people here, one to do the running and the other to administer the medication, it would have been impossible. Now everything's right there in the room."
EwingCole's designers sought to create an environment for each family that could accommodate a variety of situations. The rooms are designed to provide comfort, privacy, and a sense of home. They also vary in size based on the family's needs. Family rooms come with a refrigerator, a full bathroom, and bedroom, and a living room or two bedrooms. The patient-protected rooms are larger and come with an additional bedroom, living area, and kitchenette.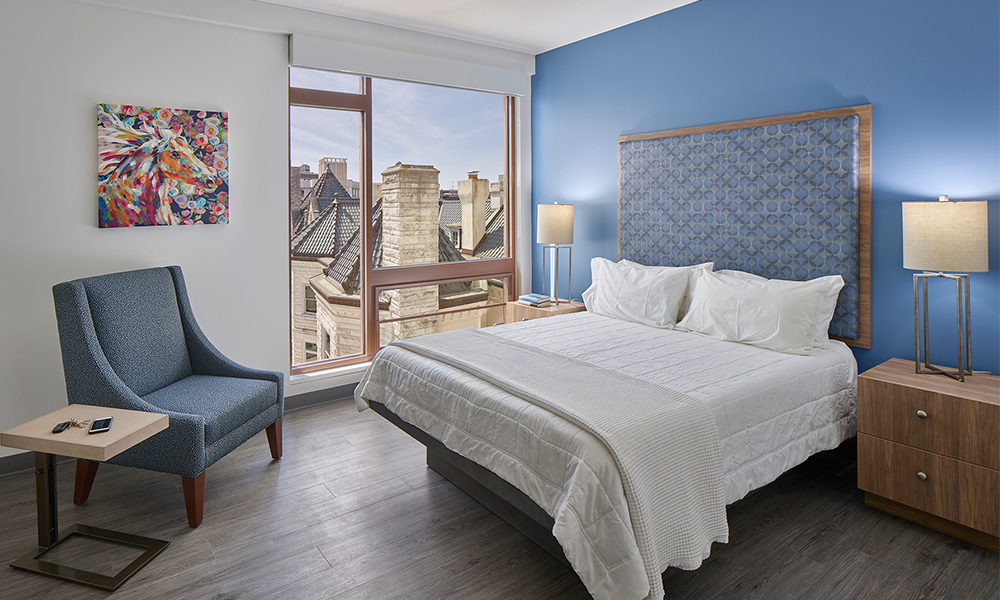 "It's like they thought of everything. It's two different worlds," said Christiane.
Having room to themselves is a "blessing," she said. It gives a 13-year-old girl and her mother the space they need to relax and be themselves for a while, something she says we all tend to take for granted. As mother and daughter, they're able to joke about the thought of having to share a single room round-the-clock.
"To have that personal space is really incredible," said Christiane. "When you're sharing a room with a child that just wants to watch Disney Channel all day and you just want to catch up on a little bit of Law and Order, having that space is really priceless."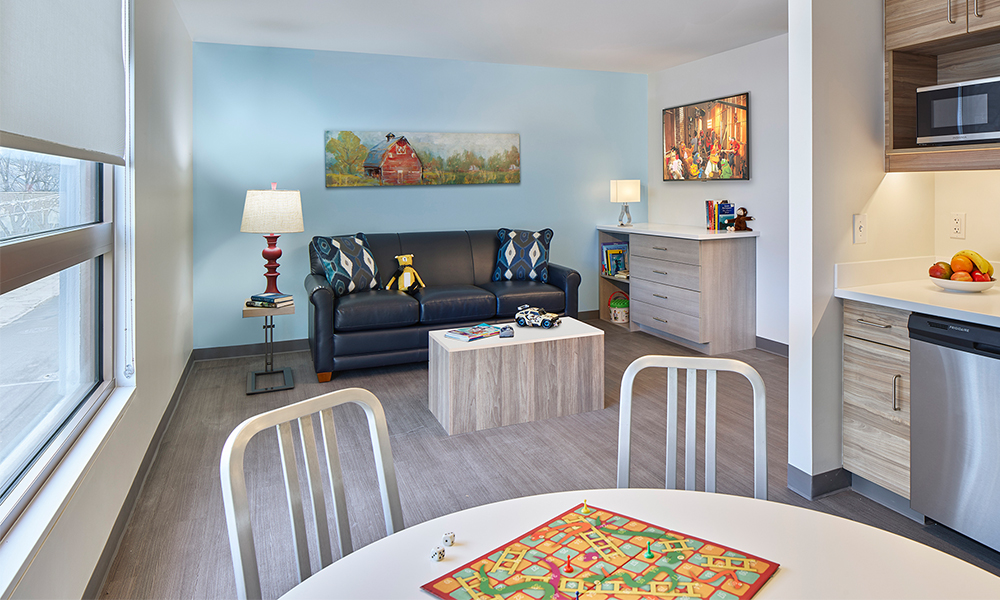 Dinner & Conversation
The completely renovated dining hall accommodates more families and the expanded kitchen makes way for upgraded appliances where teams of volunteers prepare meals each night.
The dining hall now serves as an important communal space for guests. It's where families gather to talk with one another over a meal. They talk about their days, share their struggles, and express concerns. Having that space allows them to form bonds and support networks that help carry them through difficult circumstances.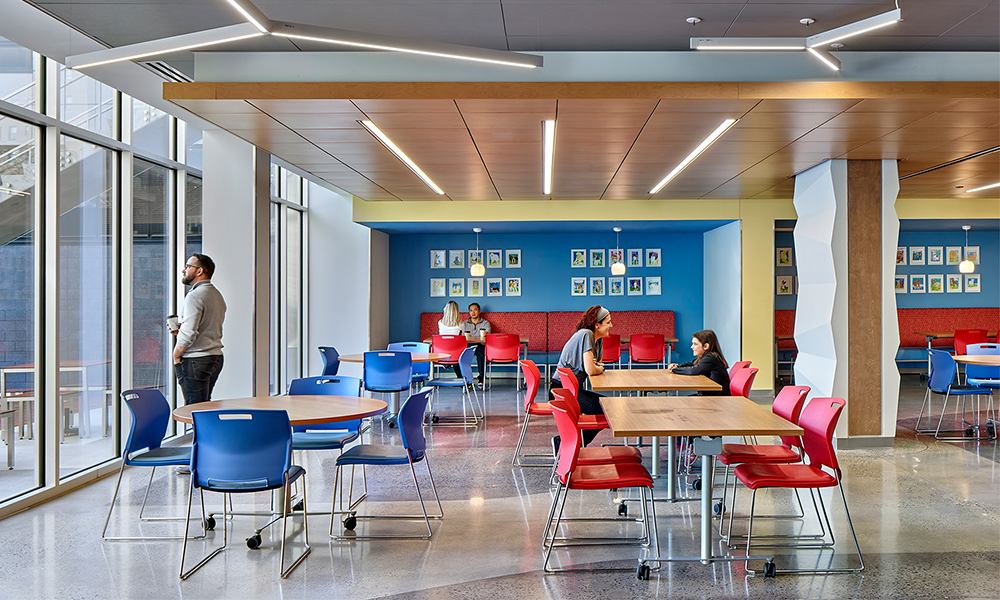 "Another mom and I cried over dinner the other night," said Christiane. "She told me she had been sitting in a hotel room alone for the last few weeks crying herself to sleep because she felt so alone. I told her, 'You're not alone.' All of us here are moms or parents who are afraid every day."
Outside of mealtimes, the dining hall supports several programs for kids and their families in specialized reading nooks like dog, art, and music therapy, as well as mindfulness sessions. An additional wing, which recently completed its renovation, includes a movie theatre, playroom, and lounges for parents and teens to decompress.
An Urban Oasis
For House administrators and EwingCole's architects, the goal was to utilize the building's unique features and grounds to provide as many opportunities for families to take mental breaks from their situations and continue their lives in as productive and stress-free a fashion whenever possible.
From the dining hall, Alyssa and her mother look out through the glass wall into the garden and patio. They spend as much of their time out there as possible. Its open patio space connects to winding sidewalks and stone pathways which snake throughout the gardens and the front of the property. It's a roller-skater's playground, "Although I don't think I'm supposed to skate out there," Alyssa said.
The families staying at the House are all from outside the city. Transitioning from rural or suburban life to a dense, urban environment isn't easy for anyone, let alone a family already facing challenging circumstances. The gardens provide a place of respite and calm for the children and families.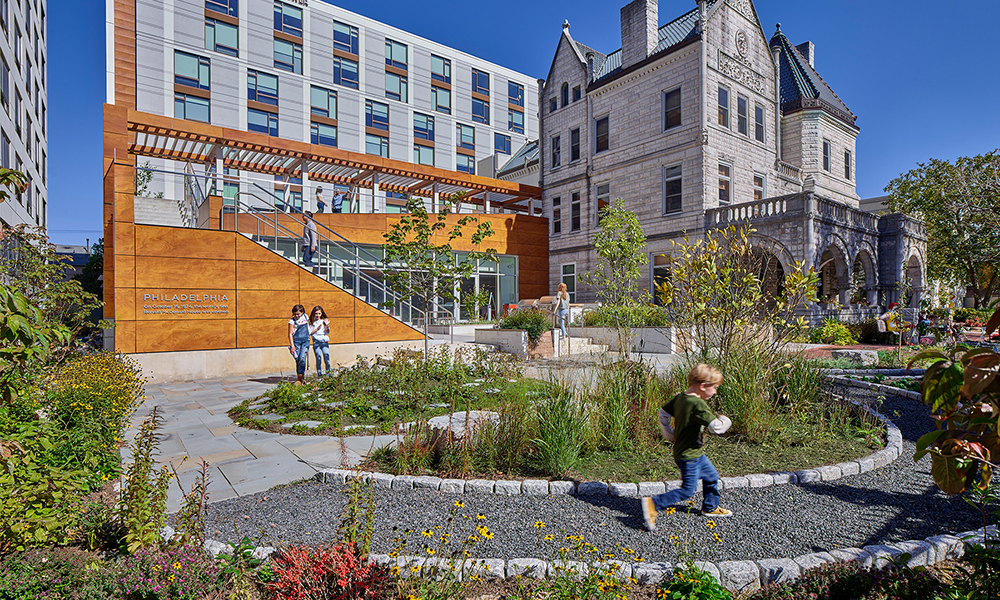 The gardens are backdropped by the new tower and flanked by the neighboring residential buildings and Victorian mansion, blocking out unwanted sound from nearby University City traffic and the bustling Market Street district. The patio on the ground level is surrounded by flower beds, blooming shrubbery and trees, making it an ideal spot to enjoy lunch or an evening meal during the warmer months. The second level on the roof of the dining hall is an elevated park. Tables and bushes line an open grass lawn for relaxation and sports.
"Guest families come from all over the world, and for some, it can be overwhelming to navigate a large city," said Campbell. "So, we wanted to create relaxing outdoor spaces where families felt protected and not even realize that they are in a city. They would have areas to explore, reflect, socialize, and for their children to have fun."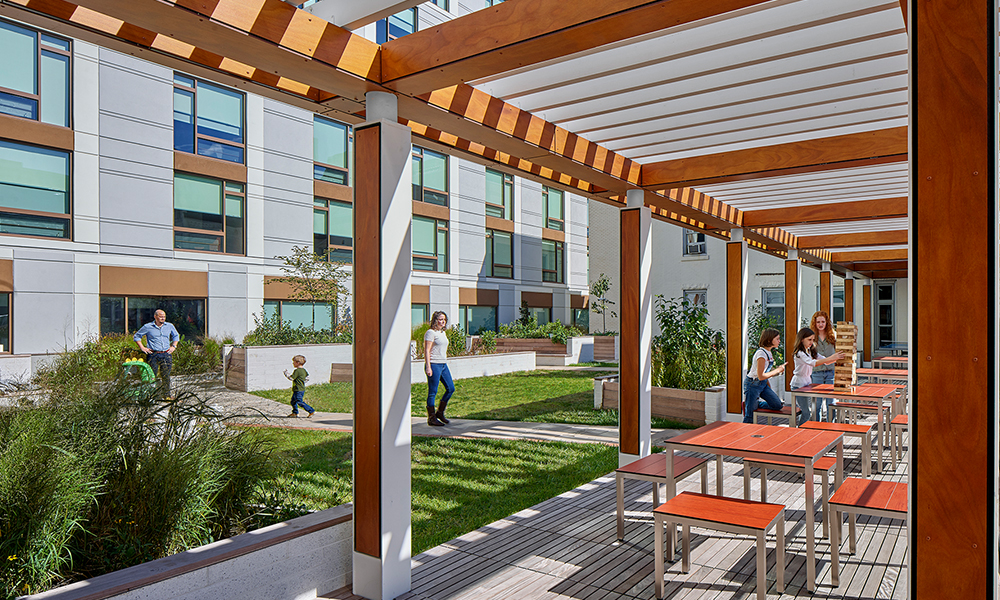 RMHC Philly's mission is to provide families of seriously ill children with a "community of comfort and hope." It's always been their mission. The Osoweickis have never felt a failure to deliver on that promise. They remain grateful and confident as they stare down a difficult road ahead. They feel supported, not only by the community and dedicated volunteers surrounding them but by the physical space itself. While EwingCole routinely focuses on bringing characteristics of hospitality settings into healthcare spaces, Christiane believes the design of the House goes well beyond that.
"Hotels have hospitality. This isn't a hotel," she said. "This is a home. To call it anything less would be a disservice."
Want to learn more about the Ronald McDonald House in Philadelphia design? Visit our Design Portfolio by clicking here.