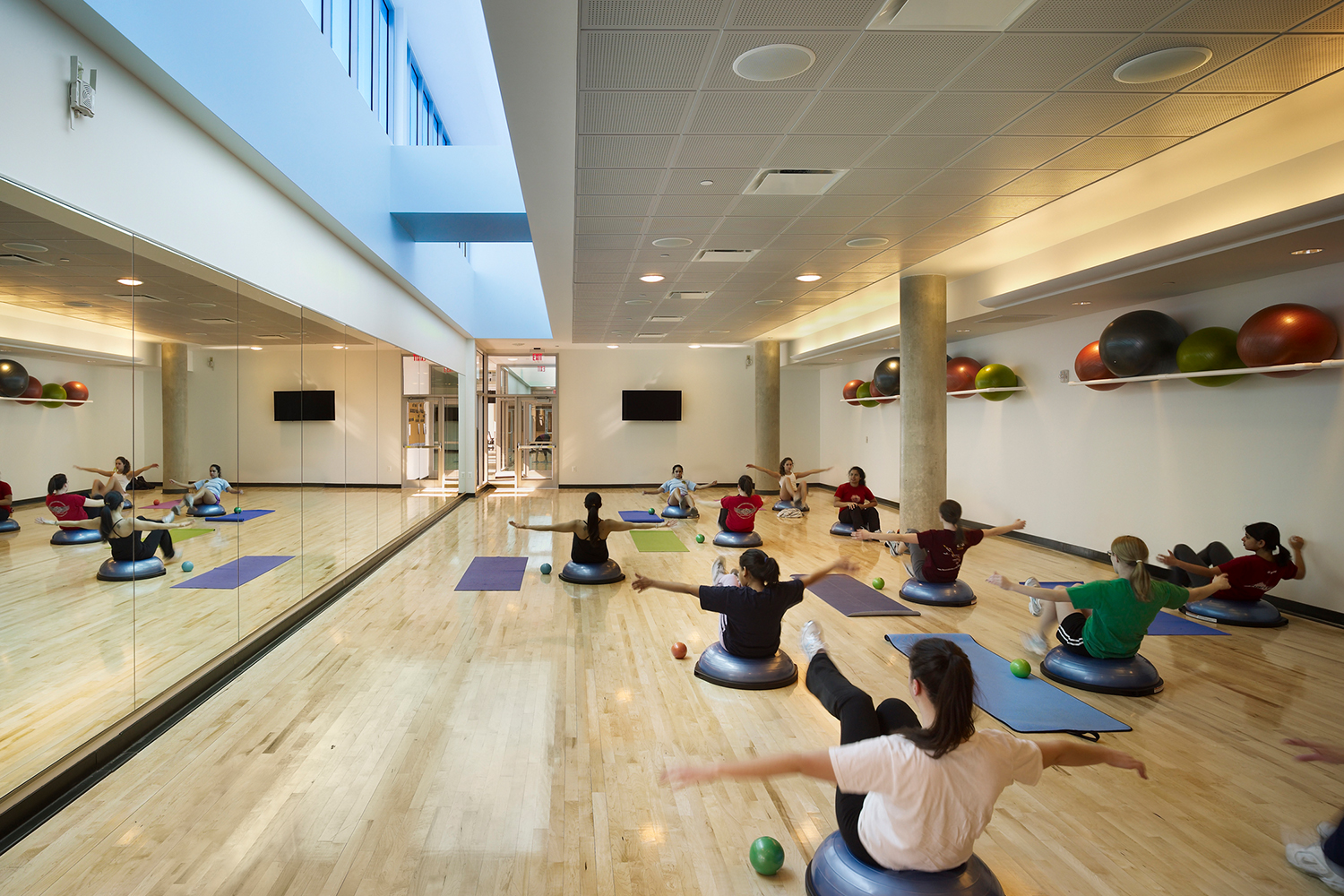 Return to Recreation Centers: A Guide to Physical Activity & Social Distancing
Recreation centers play a vital role in college and university campuses. As administrations seek to welcome students in the fall semester of 2020, they'll still need to consider social distancing and what that means for their existing spaces.
Before the pandemic, recreation centers offered important services to students – facilitating physical and mental wellness as well as providing a much-needed space to find and create community. As social distancing restrictions loosen, recreation centers are looking for ways to get students back into these vital facilities as quickly and safely as possible. Now, more than ever, our health is of critical importance as we navigate COVID-19 and compounding heightened levels of stress and anxiety caused by the virus and long-term isolation.
While many colleges and universities are generating online content to help students stay healthy and connected in the short term, discussions have begun around how to provide these services safely once students return to campus.
Before we can understand how those spaces might be safely utilized, we need to better understand the Center for Disease Control (CDC) guidelines and how they might apply to areas of high levels of physical activity – where we are potentially expelling more droplets and aerosols that may extend beyond the recommended six-foot diameter.
The following are just some initial ideas about how to apply general spacing guidelines to specific physical activities. These examples do not take reduced building capacities or added cleaning procedures into account, however they will be necessary considerations to maintain social distancing guidelines and enhanced hygiene measures.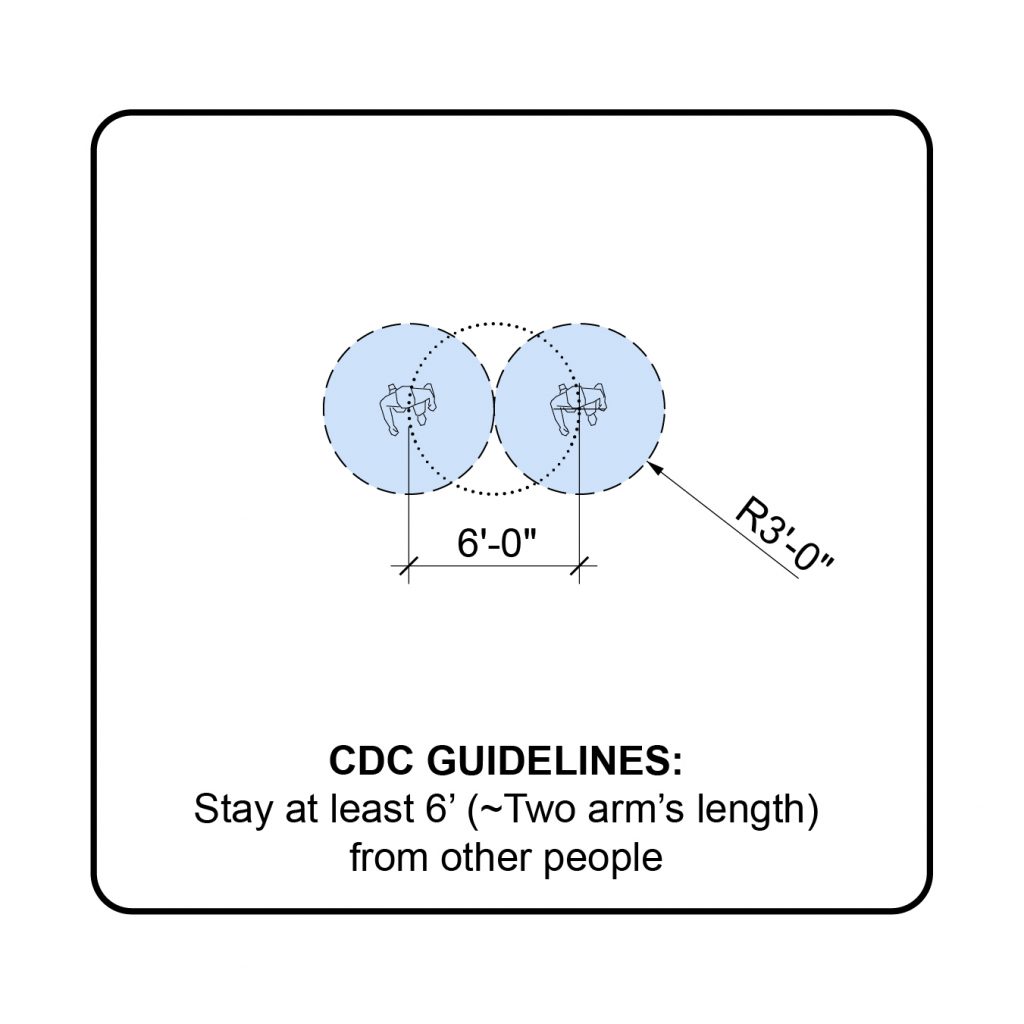 The guidelines by the CDC and the American Institute of Architects (AIA) both center around a six-foot spacing between individuals and assume that everyone is wearing a face covering.
The complexity with applying these guidelines to recreation centers is that they are dynamic spaces with activities that generate heavier than normal breathing, potentially creating a wider infection radius.
Note that there are masks that are produced for fitness activity, but further research is needed to determine their effectiveness related to COVID-19.

Spin Bikes
A spin class workout will utilize different positions on the bike, making a three-foot radius around just the seat a potentially inaccurate representation of the usage of the equipment.  We started by testing a three-foot radius centered on the bike, along with the entire range of positions.  The specific layout will vary based on the location of the aisles and configuration of the room.

As noted previously, the six-foot clearance between users may not be sufficient to prevent the spread of COVID-19 while exercising, so we have tested an additional directional six-foot radius to the front and sides of the bike with layouts facing the same direction for a spin class or away from each other for a general cardio equipment layout.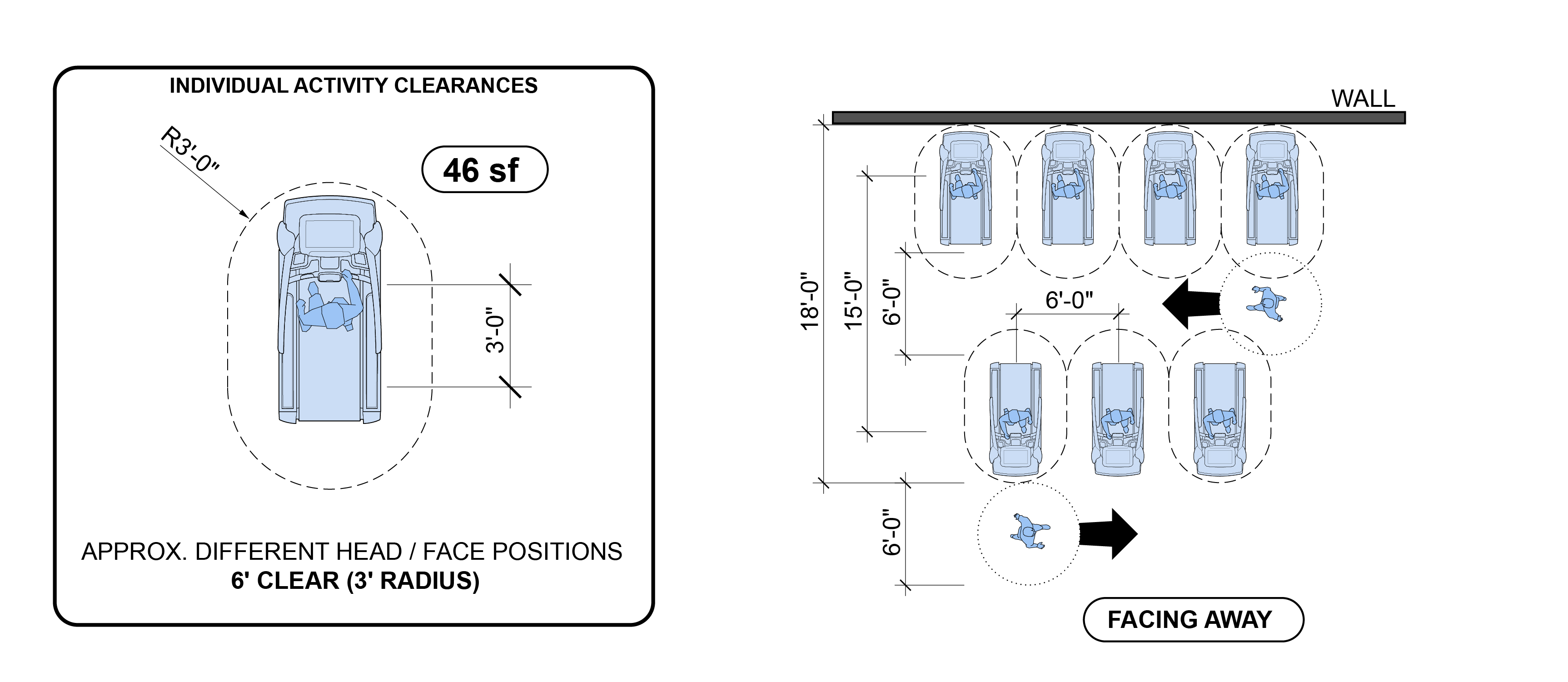 Treadmills
Similar to a spin bike, a treadmill has a small range of deck that a person can physically occupy, so first, we've begun by using the three-foot radius along that entire distance.  Depending on the layout of your individual space, you're likely utilizing every other, or every third piece of cardio equipment and considering one-way aisles to protect users.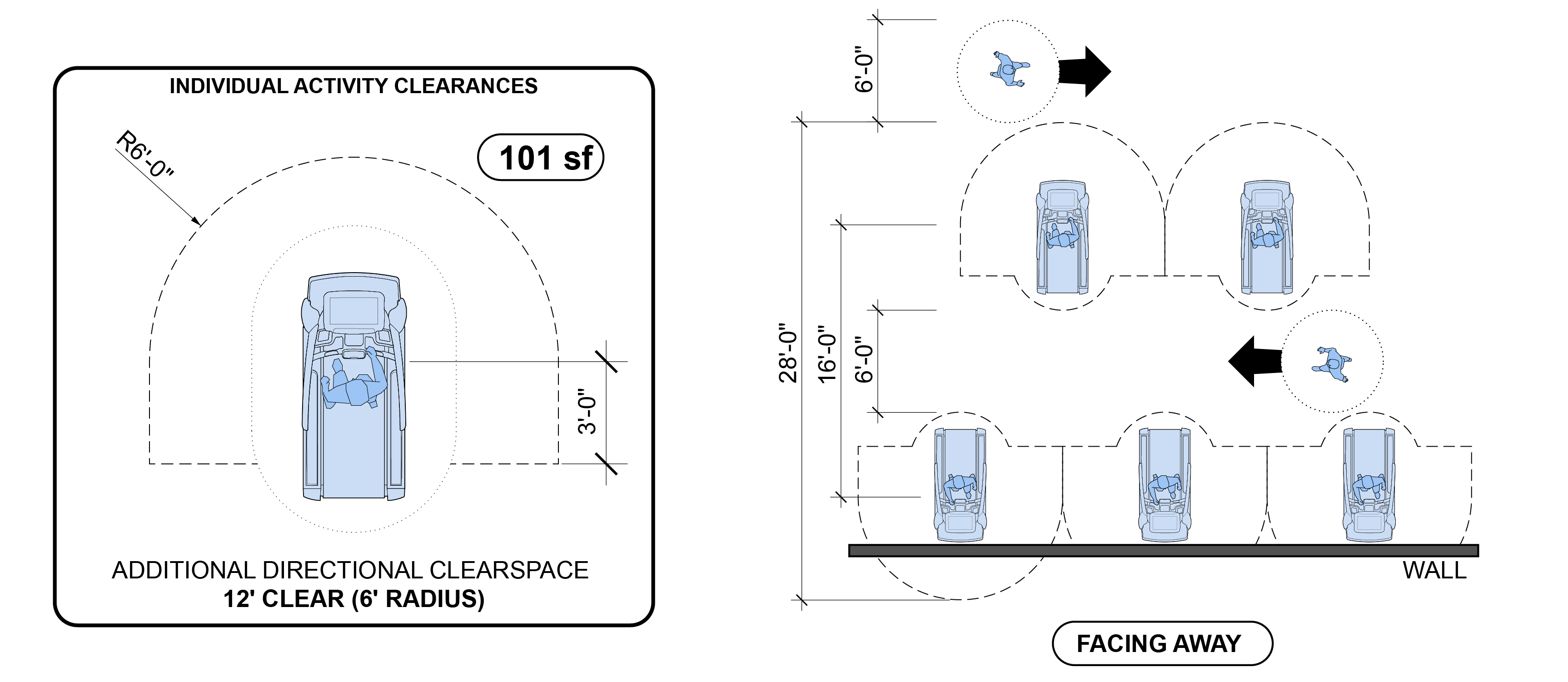 As noted previously, the six-foot spacing between users may not be sufficient to prevent the spread of COVID-19 while exercising, so we've tested an additional directional six-foot radius to the front and sides of the treadmill.

Yoga
Yoga largely takes place within the footprint of a six-foot-long mat, so first, we've begun by extending the three-foot radius along that entire distance. Offsetting mats can create additional space between users.

Active Group Fitness Classes
Active Group Fitness Classes (i.e. Zumba, HIIT, Bootcamp, kickboxing, etc.) are more challenging – as you first need to account for a range of motion for the actual activity. The diagrams above assume the choreography will be limited to a four-foot radius and that we will need to maintain six feet clear from other users at every position within the class.
Since we can't assume everyone will be in sync with each other, we are assuming that six feet clearance is between the users' four-foot radius of activity.  If everyone is in unison, this layout would provide closer to 14-foot spacing. This radius could tighten for more advanced classes.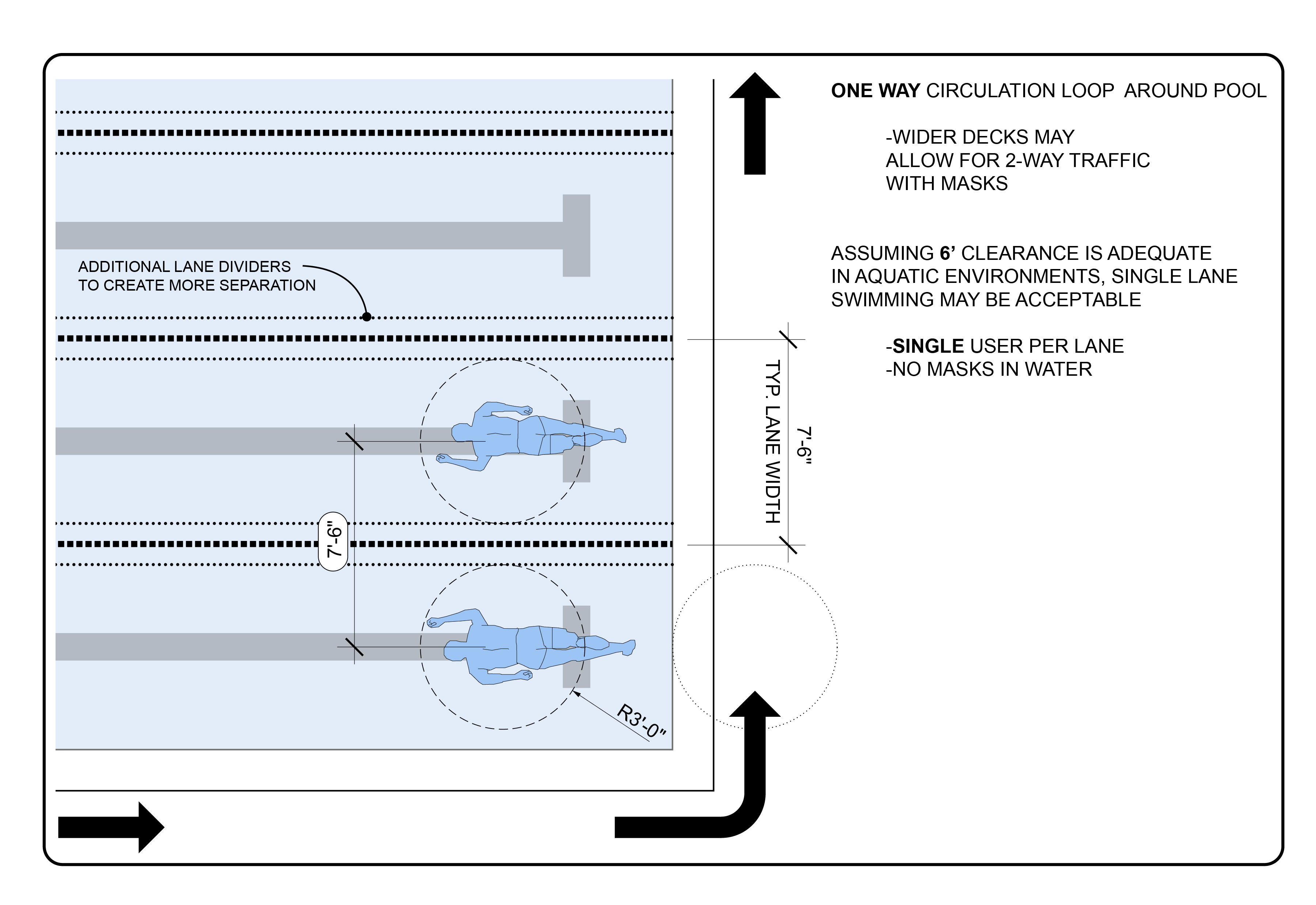 Pool
Due to the high levels of humidity in pool areas and chlorine in the water, pools may prove to be an area with less risk of infection, provided you can maintain an appropriate distance between users.  This would likely require one-way circulation around the deck and single-user lap swimming only.
Locker Rooms
All lockers could be accessible, provided users maintain social distancing within the space – utilizing one-way aisles, waiting for the area around their locker to be clear, and removing access to bathroom fixtures that are closer than six feet apart.
The diagrams above aren't meant to be a prescriptive guide to address every situation but to facilitate a dialog about safely utilizing recreation centers to bolster health and wellness within our community.  Every facility's situation will be unique, and require careful evaluation of the needs of that community and activity level.
Our understanding of the virus's transmission is constantly changing as are social distancing guidelines and recommendations. For more design solutions related to COVID-19, visit our Response & Design Services page or check out our blog for more.