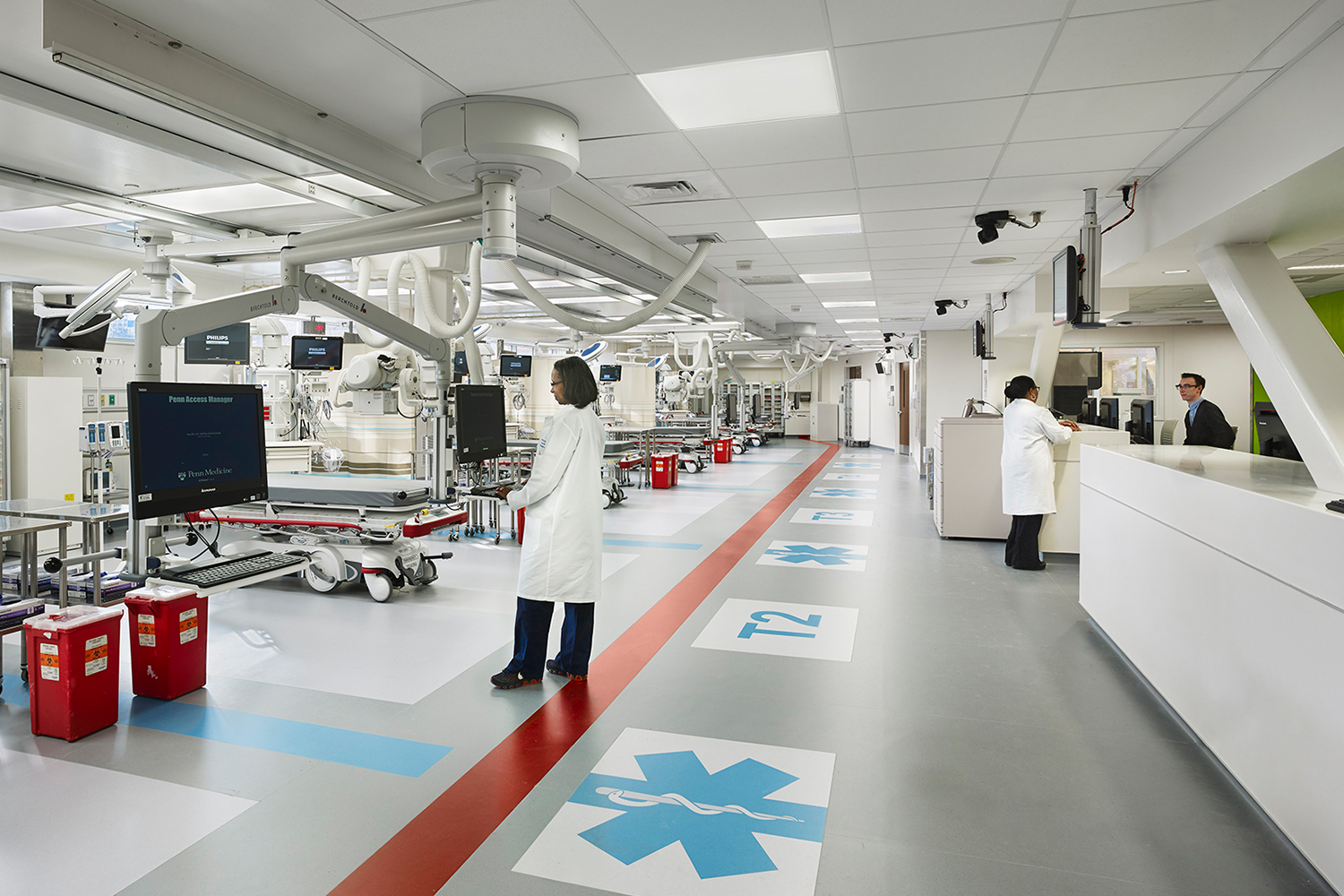 How Healthcare Design Helps Flatten the Curve
Keeping patients and healthcare professionals safe and healthy is the primary concern when designing a hospital. But what should designers and healthcare providers consider to mitigate the spread of diseases like COVID-19 when designing facilities?
The current coronavirus, or COVID-19, is a wakeup call to everyone in healthcare. Designing healthcare spaces to mitigate and prevent the spread of infection has been a major priority for designers and planners for at least 20 years, with a growing body of research to support design, material, and operational strategies to eliminate and mitigate the risk of hospital-associated infections. What COVID-19 has made dangerously evident is that many healthcare facilities are not designed to handle global pandemics – both in terms of straight out capacity, but also in terms of flexibility in design.

As architects, engineers, interior designers, and researchers we have a unique obligation to help healthcare facilities combat the spread of infectious diseases within healthcare environments through responsible and innovative design. However, the onus falls on the designer to both pinpoint opportunities of intervention in the design process early that address pandemic response needs and develop a path forward for our clients to achieve those goals. Thoughtful modifications to hospital designs have a real potential to adequately assist and protect healthcare providers by slowing the spread of disease throughout facilities and communities.

The novel coronavirus will likely result in cultural shifts large and small throughout healthcare. As designers, how we respond could mean the difference in lives saved in the future. Below are some of the planning tools, design elements, and practices EwingCole uses to keep our healthcare clients prepared.
Aligning Demand, Capacity, and Space Optimization
Identifying the programming elements best suited for clients starts with aligning expected demand with right-sized capacity. Using existing patient data and forecasted volumes, our analytics teams build simulation models to predict room needs and optimize room types under multiple scenarios. Our researchers are embedded alongside highly specialized clinical designers generating models that respond to real-life operational environments and patient populations. In other words, capacity is more than space for beds, and this approach accounts not only for room counts, but how those rooms are designed and equipped. While efficiency has been a major objective for health systems in recent years, there is an increasing need to focus on agility and robustness.
Lean Design
Careful and thoughtful floor planning can both reduce the transmission of disease and streamline operational efficiencies. By minimizing the distance between points of entry, we can reduce the likelihood of infection spreading to other patients throughout the facility. Keeping isolation rooms connected to decontamination rooms allows for efficient patient transfer that minimizes viral spread.

Our design approach is process-driven and fully supported by lean and evidence-based design research. This foundation leads to high-performing, healing environments with greater flexibility when needs such as COVID-19 arise. The lean approach is an analysis of operational flows for materials and people with the least amount of waste and the highest efficacy. While we are approaching the design of these units from this perspective, it is imperative to make sure we focus on flexibility and acuity adaptability.
Emergency Departments
When planning and emergency department, we develop design options that allow the facility to double ED capacity quickly.  Small modifications to the treatment rooms, dual vertical headwalls, and strategic installation of overhead lighting, easily facilitates the placement of a second patient within the room during a mass casualty event. Right now, hospitals in "hot zones" are faced with insufficient space for infected patients. Having the ability to double capacity is critical for hospitals in a pandemic scenario.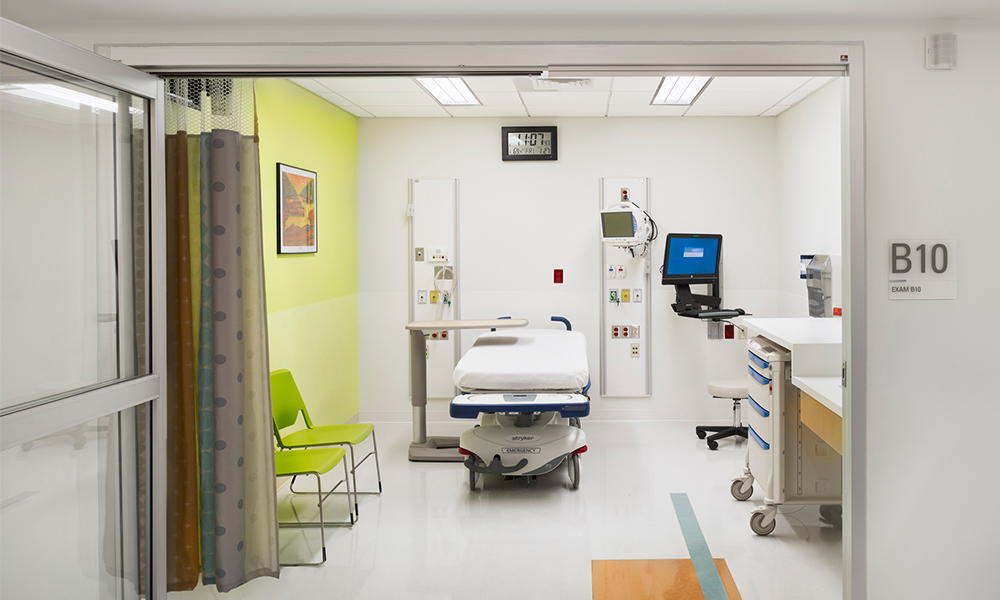 Isolation Rooms/Negative Pressure Spaces
An effective resource in the fight against the spread of airborne infectious diseases is the negative airborne infection isolation room (AIIR). According to a 2016 study published in Health Security, "the amount of available airborne isolation beds needed for ill patients will be exceeded early in the course of a moderate or severe influenza pandemic." AIIRs have airflow that is negative pressure, meaning air from surrounding spaces flows into it while the air inside the room is exhausted outside of the building instead of being fed back through the air handling unit and re-circulated into the hospital. This helps control the spread of airborne infectious diseases that often spread from person-to-person through aerosolization. Although individual AIIRs tend to be costly permanent fixtures, it is essential to plan for a sufficient number. We also look for opportunities to apply this technology to other high capacity areas, such as waiting rooms.
Personal Protective Equipment (PPE)
PPE for staff needs to be abundant and easily accessible. The focus of staff safety and ease of access to patients is critical for the success of clinical care. In many instances, the use of cabinets (Nurse Servers) located at the entrance to the patient room provides the necessary storage of materials. This decentralized concept ensures both compliance and safety while reducing patient room interruptions. From a technology perspective, the use of substations allows closer proximity and visibility to the patient without direct physical contact with the patient. You can supplement patient interactions with technology, such as telehealth capabilities, integrated entertainment and education systems, and cameras for enhanced patient supervision, education, and connection.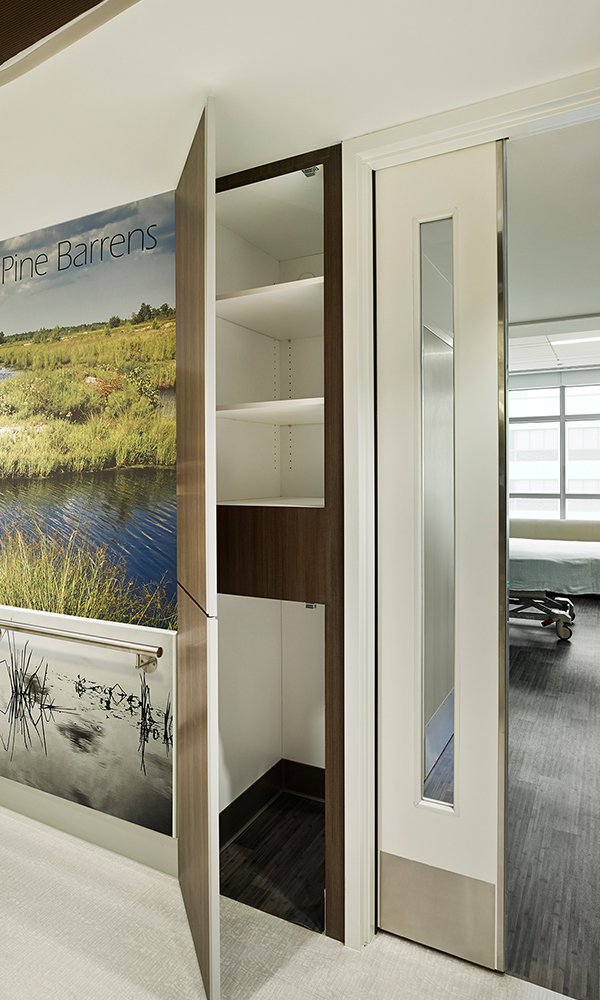 Pandemic-Ready Inpatient Floors
We've worked closely with our partners to develop entire pandemic floors within recent hospital designs. Creating optional pandemic floors reduces the risk of transmission to uninfected patients by creating separated units.

If the population of infected patients becomes too high, hospitals can convert dedicated floors to negative pressure. When initiating pandemic mode, return ventilation is closed while opening exhaust ventilation. Pandemic fans circulate the airflow on these floors out of the hospital, creating negative air pressure throughout, minimizing airborne spread, and allowing for a higher patient capacity. This mechanical design is more cost-effective than building a series of individual AIIR.

It is important to note that this is not an appropriate application for all patient floors, such as Oncology patients. EwingCole carefully coordinates and reviews operations with the client and understands the necessary questions to design and make the right recommendations.
Expandable Emergency Triage and Screening Spaces
Most hospitals aren't designed for more than the average patient load, meaning they are typically ill-equipped to manage mass casualty events or pandemics.

EwingCole is working with clients to develop overflow triage and testing areas within or around their existing facilities. Ambulance bays and parking areas, for example, can serve as extensions of triage, patient screening, or trauma areas, allowing hospitals to take on additional patients. Storing additional equipment adjacent to these areas outside of mass casualty or pandemic events allows for speedy assembly and preparedness.

As COVID-19 infection rates grow (currently COVID-19 hospitalizations are at 4.6 per 100,000) the entry sequences and concerns about contamination and flow become more and more critical.  Analytics related to waiting rooms, just in time access, and "Pull 'til Full" concepts that allow potentially contagious patients to wait in a private room are being evaluated.  Priorities of design for staff protection, patient seclusion, physical distancing, and acuity levels will impact the openness of waiting rooms, furniture clusters, and configurations, size of space, and the number of patients and family members allowed in the ED.
Interior Materials
While we don't fully understand how coronavirus spreads, we do know that the virus can be transmitted when people come into contact with infected surfaces – although it is not how the virus primarily spreads.

We regularly recommend materials that are safe for the environment and assist in mitigating the spread of bacteria, fungi, and viruses. These are often specified in our healthcare projects and can be easily cleaned with products used in our client's healthcare systems.

In high acuity areas, paper privacy curtains are easily disposed of, provide patients with some level of privacy and don't require cleaning. New pulsed-xenon UV lights can be incorporated into these areas for additional disinfectant. Recently, EwingCole has been specifying privacy glass that can be switched from frosted to clear to replace privacy curtains. High-touch areas like countertops could be outfitted with materials like solid surface, a non-porous material that mimics natural material like granite or marble. Silicone treated fabrics in furniture and millwork are bleach cleanable, antimicrobial, and antifungal.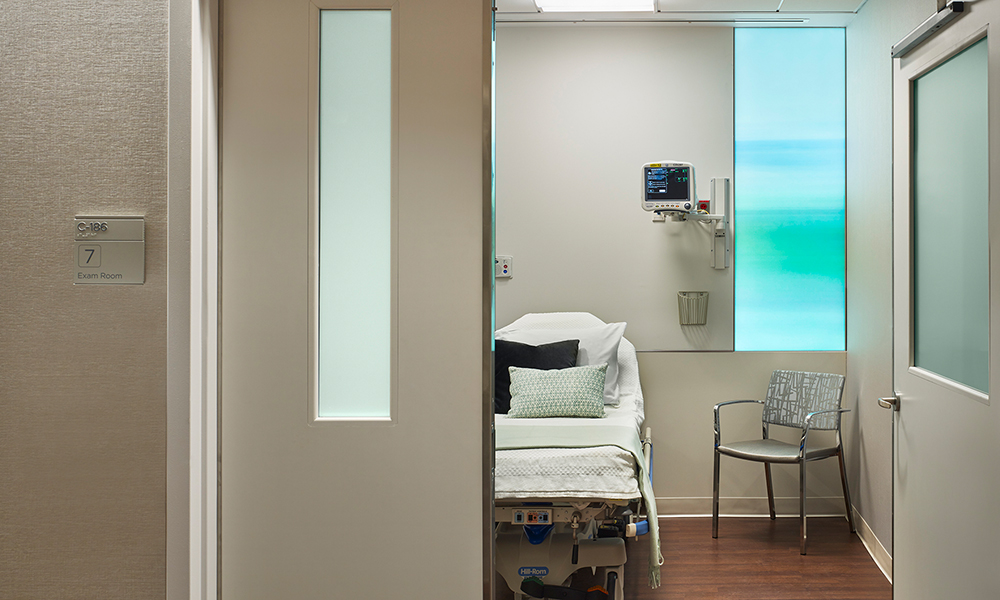 For healthcare providers across the globe, the situation surrounding COVID-19 changes day-by-day and protecting non-COVID-19 patients and frontline workers remains their top priority. Our healthcare design team meets regularly to discuss the issues facing our clients and communities during these challenging times. Check back in on our blog for more design solutions and updates.