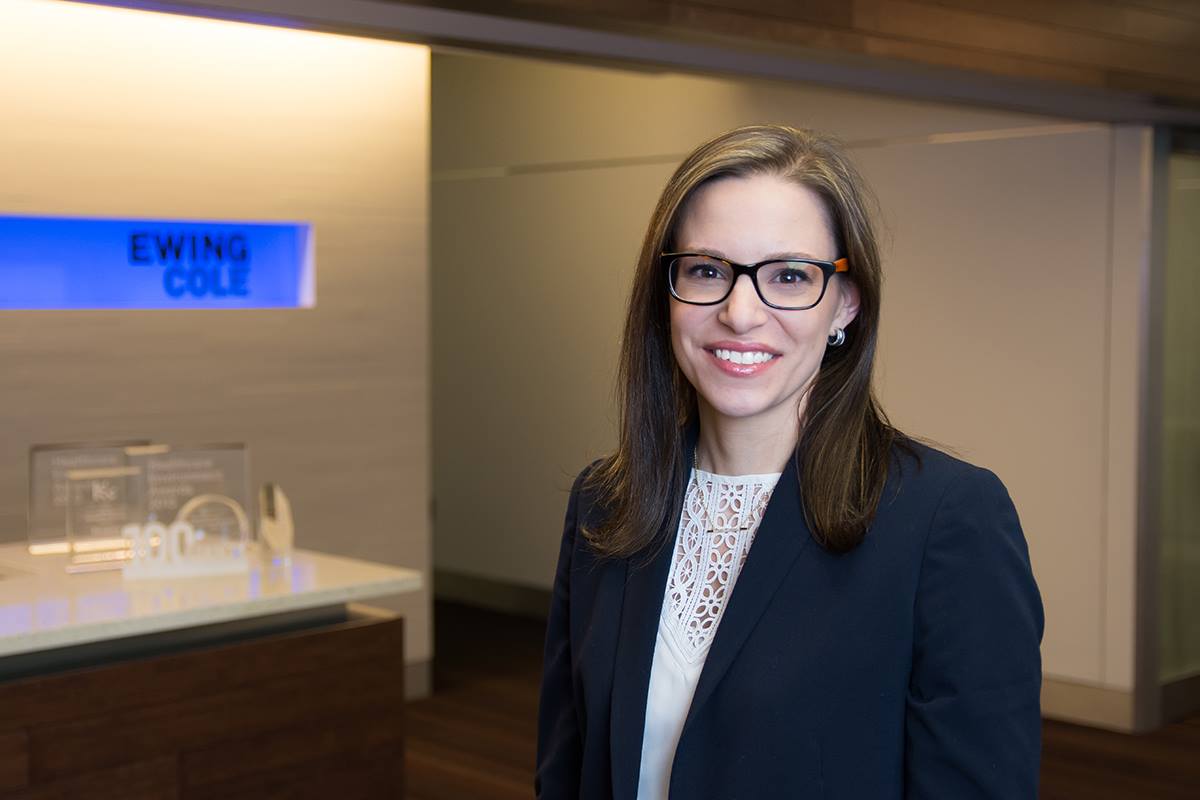 Celebrating International Women's Day: Conversations with the Women at EwingCole
At EwingCole, we believe that our expertise lends itself to a collaborative environment in which we listen to one another, work with one another, and learn from one another. Regardless of profession or discipline, we believe that the broader success of any organization is achieved when the collective contributions of each member of the team are recognized and celebrated. It's important to acknowledge that each role is significant and that equality is built on a foundation of inclusivity and diversity.
Recognition of this "collective individualism" is the general theme of this year's International Women's Day. To celebrate, we're profiling a few of the women at EwingCole who provide a wide array of expertise throughout the firm.
In her nearly 15 years working at EwingCole, electrical engineer and director of lighting design, Angela Matchica, PE, LC, LEED AP, has learned how to interact with just about anyone. It's a useful skill when discussing complex integrated lighting systems with clients, fellow designers or end-users. Her communication skills, knowledge of emerging lighting technologies, and creativity have led to her designing some of EwingCole's most visible projects.
Q: What project are you most proud of and what was your role in it?
Angela: One project that comes to mind is the Deep Time Dinosaur Exhibit at the Smithsonian Institution National Museum of Natural History- it's a project I worked on from the early feasibility study through base building and exhibit construction - 7 years! It was monumental professionally because it was such a high-profile and highly-visited building. I had the chance to meet with the client directly, talk to end-users, present ideas - and I knew we were working on something that would impact generations to come. Working through the electrical design, planning infrastructure for the exhibit, and doing material analysis for the skylight replacement was a big undertaking and extremely rewarding. From a personal standpoint - 7 years is a long time! When I started the project, I was a newlywed, and by the end, I had four and two-year-old sons! It can be hard to balance work and home life, and at times both seemed difficult to manage- but being able to show my kids something tangible I helped create is a proud moment for me… and what is cooler than saying you worked with a T-rex?
Q: What are some of the challenges you faced while working on the project and how did you handle them?
Angela: Often on projects, there can be multiple stake-holders, owners, end-users, a board of directors, owner's reps, construction managers, among others. Sometimes, it is easy to find consensus on a project, and other times we must come to the table with options and walk the team through the advantages and disadvantages to help come to a solution. A big part of our job is trying to understand the goals of all involved parties on a project and work through integrated and innovative ways to meet the intent. That may be from a cost stand-point, time, operations, or aesthetic. Many times, it is also my job to help end-users understand technical infrastructure requirements - being able to explain our design to people with all different educational backgrounds and experiences is important.

For the NMNH Dinosaur hall project, selecting the skylight replacement system was a big undertaking- coordinating with the museum on acceptable lighting levels for the collections, running daylight calculations, reviewing material properties, maintenance/warranty issues, and even going on-site visits to see the product installed on other buildings. We needed to walk through each item step by step with the museum and all stakeholders to understand the goals and gain consensus on the solution. NMNH was a wonderful partner and the result was an installation with diffuse, full-color spectrum daylight that met the collection requirements and is truly breathtaking when you enter the space.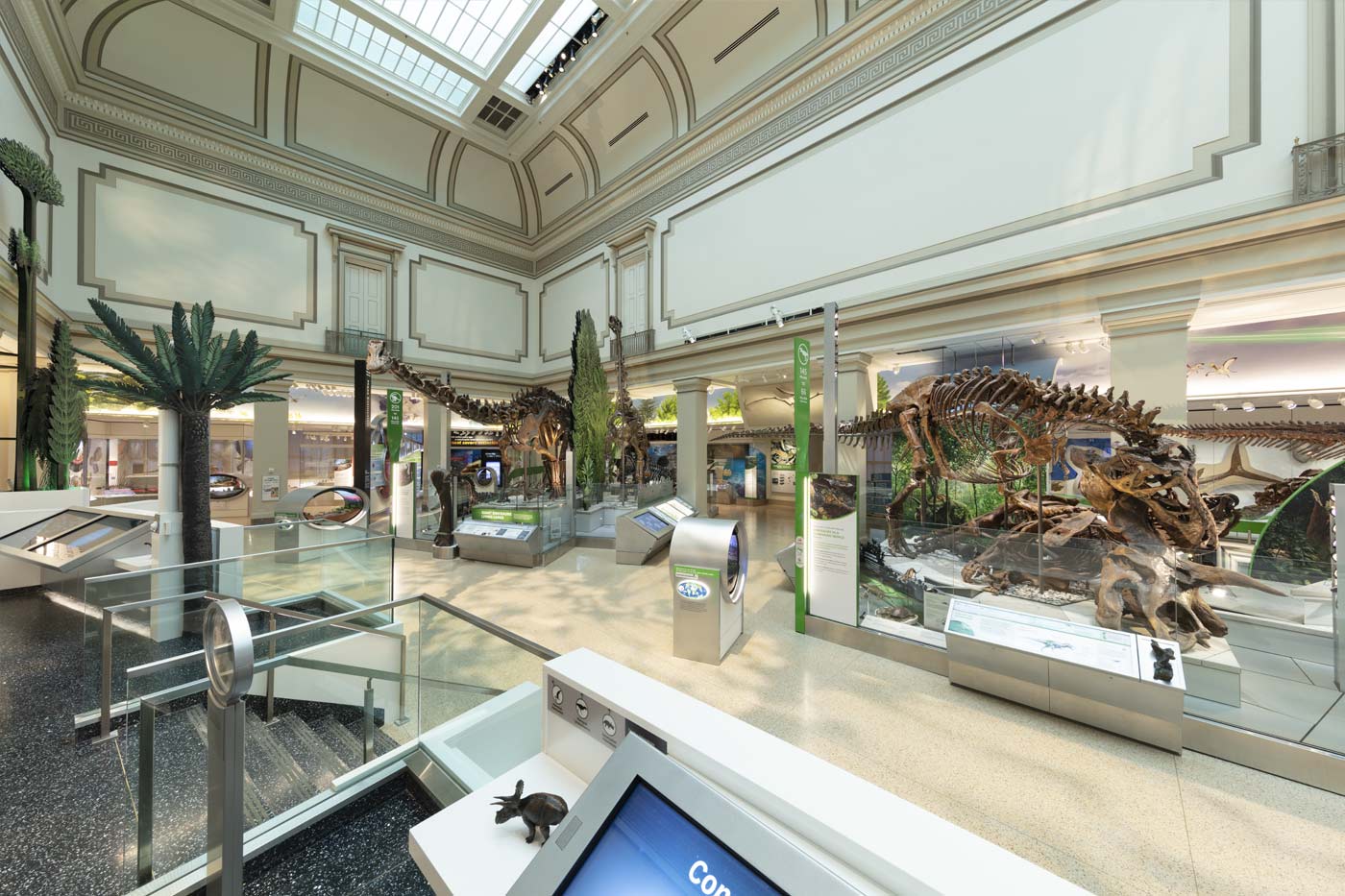 Q: What are some of the most rewarding elements of your work?
Angela: The fact that we create is very rewarding- we can see our work truly impact those who experience the buildings. It is also rewarding to work through a complicated design solution or a tough construction issue that has come up. I was always told there would, unfortunately, be mistakes- but the goal is to be the first to the table with options and proposed solutions- the challenge is to "dig in" and not to shy away. Being remembered as a partner on our projects, helping to work through all types of twists and turns, is very rewarding.

Lastly, being able to work with such great people in our office, and mentoring upcoming designers in our field, makes me very proud. I was lucky to have several people who mentored me from both technical and business perspectives- having the ability to hopefully impact others, in the same way, is a great part of my job.
Q: This International Women's Day focuses, in part, on "collective individualism" or how individual contributions impact larger outcomes and goals. In your field, how does gender diversity play a role in shaping a team, firm, or project?
Angela: There have been plenty of research, white papers, TED talks, etc. that continue to carry the same theme- we are all more successful, the more diverse the opinions brought to the table. We all think differently and having a holistic representation of our design teams helps to strengthen our perspective. I truly believe that when we are working on a project, we are a TEAM- it doesn't matter where an idea comes from, neither the gender, the seniority, the job title, the discipline- we each see things differently which helps to expand the potential of what a space can be. We should all continue to strive to include more diversity on our project teams and give an opportunity for all voices to be heard.
Q: Did you have any role models or mentors who shaped the way you work or how you chose your career?
Angela: When I started to EwingCole as a 20-year-old intern, I was lucky enough to work for a female engineer and lighting designer, Mary Alcaraz. She was a principal in the firm, a respected designer, a great mentor, and a mother of two.  Being able to work with her so early in my career helped me see characteristics of what it means to be a successful engineer- and a woman who figured out a way to balance being part of the company leadership and a working mom. The mom part was so critical- I always knew I loved engineering and could be successful in the field- but I wasn't sure how to balance having a family.  I was lucky to learn from someone whose life aligned so much with my own personal goals that I could easily see a path for myself. I realize now, later in my career, that not everyone had the luxury of a mentor they could look to as a guide through the profession.  I hope as more women continue to move into senior leadership roles throughout our industry- more and more young women can see that direct path for themselves.

I was also lucky to have other senior leaders who mentored me at EwingCole- Bob Ghisu and Jeff Hirsch included me on projects, pushed me to grow professionally and take on leadership roles with our clients.  They were both mentors and advocates. The insight they gave and time they spent answering my design questions or listening to me practice for an upcoming presentation seemed just like part of a project process at the time- but looking back I realize the time commitment that sometimes comes with mentoring- and I even further appreciate their involvement in my career. My experiences with great mentors make me realize the important role I can play for the next generation of designers- helping to give advice, guide them technically, and give room for growth opportunities on a project.
Q: What would you say to a young girl who wanted to pursue a career in engineering or lighting design?
 Angela: YES! Being an engineer and lighting designer is challenging, creative, technical, sometimes stressful, but ultimately rewarding- I love my job and what we do. The balance of technical engineering with the more artistic expression of lighting design has allowed me to professionally explore two passions at once- something somewhat unique to the way EwingCole operates. As my career evolved, I also took on some management responsibilities, leading other lighting designers, and becoming a principal in the firm. While not what I expected to do when I was 19 and at Penn State in the Architectural Engineering program- managing staff, helping with scheduling, and taking part in pushing forward larger goals of the firm is also challenging and rewarding.

I would urge young women- regardless of the field- to not shy away from a passion you may have in life. It doesn't matter if there are more men in the field or even more women in the field! It doesn't matter how much money you may or may not make- if you are passionate about what you do, I believe you are ahead of the curve on being successful and happy at work and life.
Q: Throughout your career, have you seen any progress made towards women in your field? What areas do you feel need more support?
Angela: I have seen more women who are part of management, who are balancing home and work life, and who are strong designers and engineers in our field… but not enough.  While numbers improve- I know there is still room for growth- to continue to mentor, develop, and provide opportunities for women in the profession.

I recently participated as part of a panel for the Professional Women in Construction (PWC) professional organization in Philadelphia- it was an evening event to talk about the different roles in our industry and how women have impacted what we do each day. I was amazed by the number of talented, smart, well-spoken women- in all different phases of their career- who were at this event. I was truly taken back by all these impressive individuals and events like these continue to reinvigorate me because there is a lot of talent in the field which we should continue to promote and support.