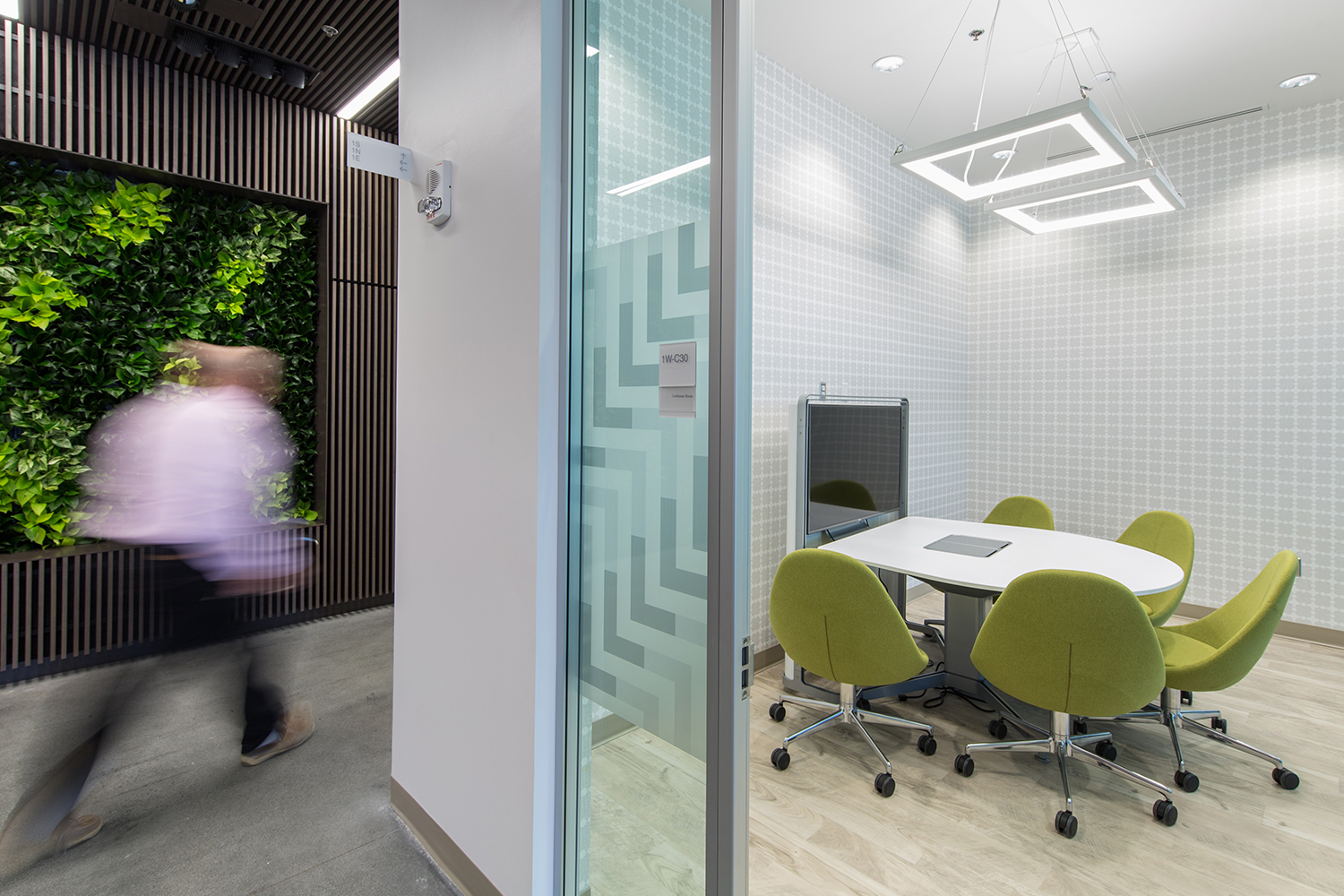 What Will the Office Look Like When We Go Back to Work?
Many companies are eager to get their employees back in the office, but without a vaccine for COVID-19, returning to the office becomes a delicate and carefully coordinated process.
While many local and state governments are currently discussing phased re-openings, many are still operating under work from home orders for non-essential employees and may continue to do so for the foreseeable future.

EwingCole's headquarters is home to nearly 300 architects, engineers, interior designers, and planners as well as accounting, marketing, and IT departments. We have been fortunate to continue working with our clients virtually through enhanced technology connectivity, but as an integrated firm, we look forward to getting back to the office and being able to collaborate with our colleagues and clients face-to-face.  We know that this is a long-term process that consists of gradual and thoughtfully considered phases that balance our employees' and visitors' well-being and our collective need to continue supporting our clients.  As one of the largest design firms in the city, we wanted to share our practical strategies for making EwingCole a safer workplace and hope they are helpful in your own considerations for your businesses.

We began the process by analyzing our existing floor plan and identifying all the areas that we felt required mitigation. At the same time, we surveyed our employees to determine if, when, and how they would be willing to return to the office once we receive the "all clear." Based on those results, we began to design Phase 1 alternatives for a return to the office.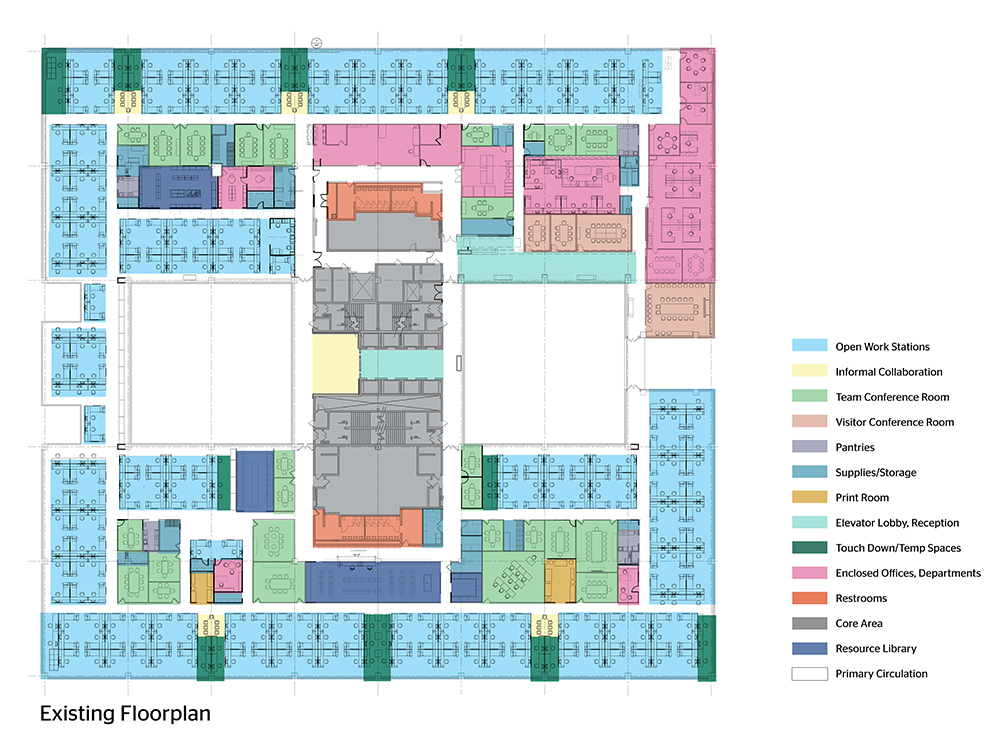 Density Shift
Like many larger companies, our entire staff won't be able to return to the office all at once. Administrators and operations officers will need to determine how many can return at a time, who those individuals will be, and where to locate their work.
After learning which employees will return to working in the office, consider assigning "shifts" to decrease the number of people in the office at one time. These shifts could easily be assigned based on existing seating arrangements by filling every other seat to promote social distancing.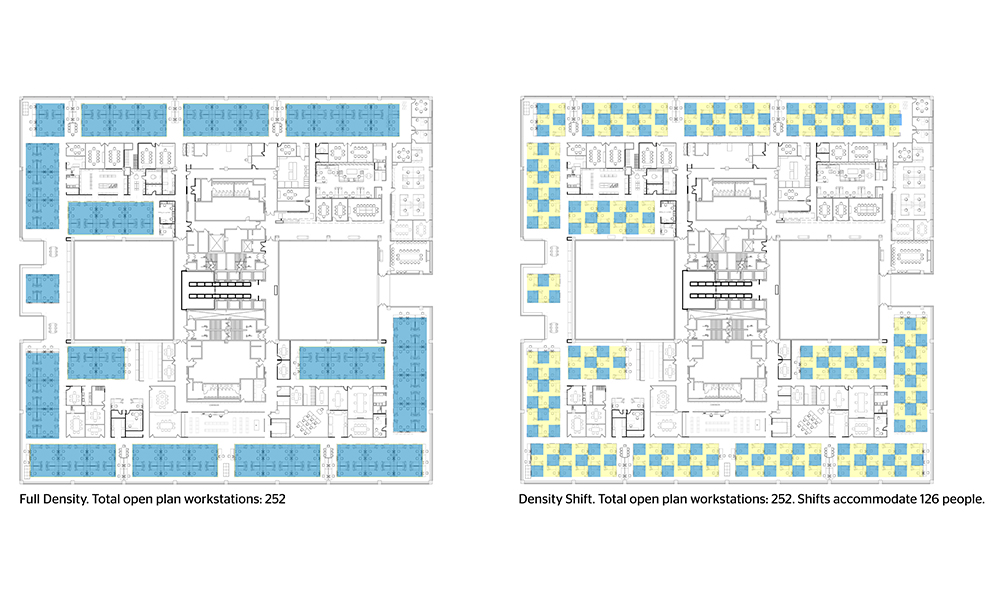 Circulation
Depending on the size of your office, and the number of employees, creating a circulation path may be advisable. The benefits of a defined circulation path keep people moving in the same direction, which prevents passing in the halls and supports social distancing by giving people the ability to meter their walking to avoid close contact. Identify the circulation path that works best for your building, alternating direction North to South and East to West may prove to be most direct. Once a circulation path has been identified and tested, post clear signage on walls and floorings. For offices that require use of elevators, things become more complex.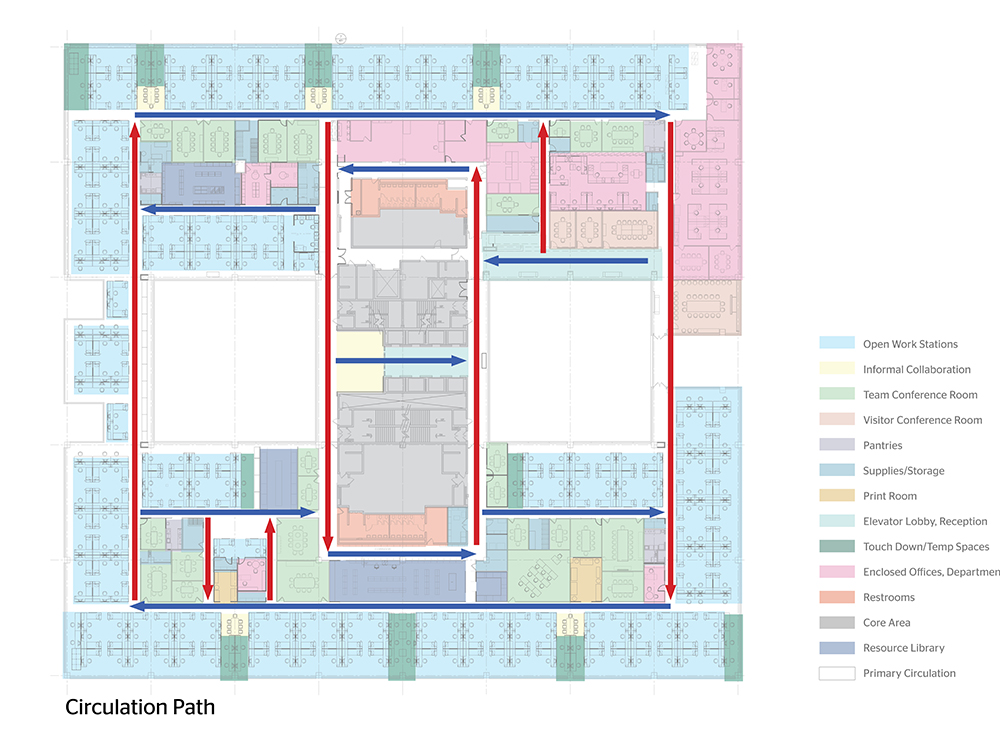 Working Areas
Identify the "hot spots"; areas where employee workstations are adjacent to heavy traffic areas. Permanently relocate these employees to a hoteling station or an available conference room.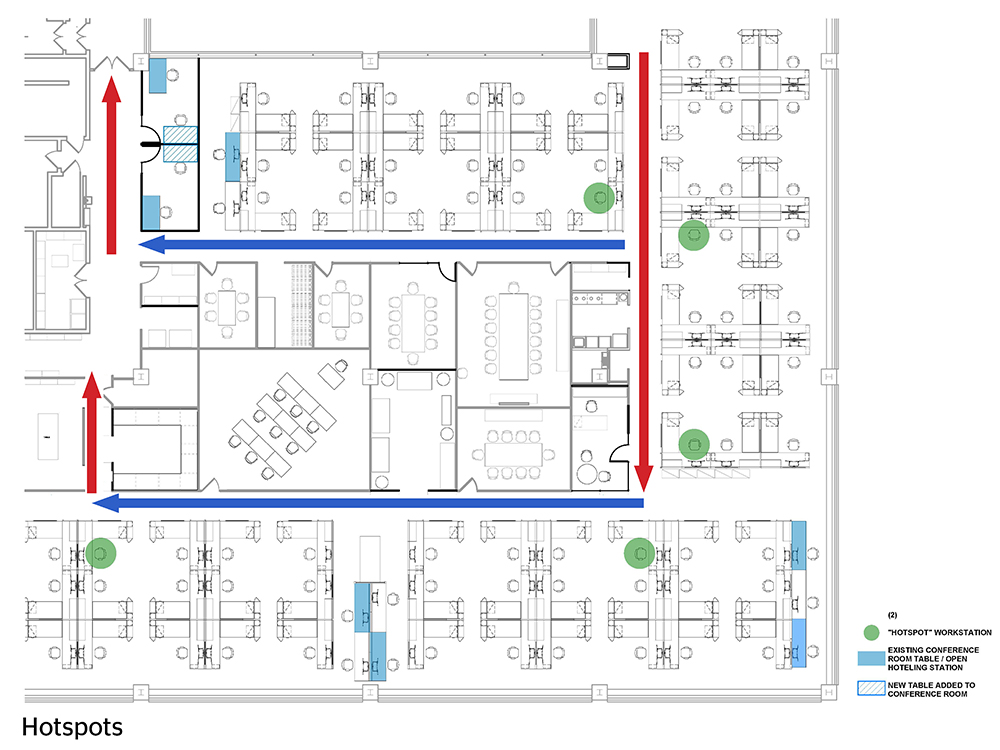 As more employees begin to return to the office & "shifts" start to phase out, adding panel systems to workstations can encourage social distancing and limit the spread of germs. These panels can be created and arranged in a variety of ways, finding a solution that suits each unique space.
Install visual demarcation indicators around workstations to remind employees about our new societal norms, such as standing six feet apart from one another. A line or a dot six feet away from the workstations chair will help remind coworkers to follow these new practices.
Shared Spaces & Meetings Areas
We're likely to continue conducting virtual meetings long after we've started the process of returning to the office, but there are still instances that call for face-to-face interactions and meetings. In shared spaces like conference rooms, social distancing, and cleanliness will continue to take precedent. We've outlined an example of how offices can utilize these spaces while keeping employees and visitors safe. Operationally, determine the maximum number of people permitted in each conference room based on its size, and remove any chairs beyond that limit.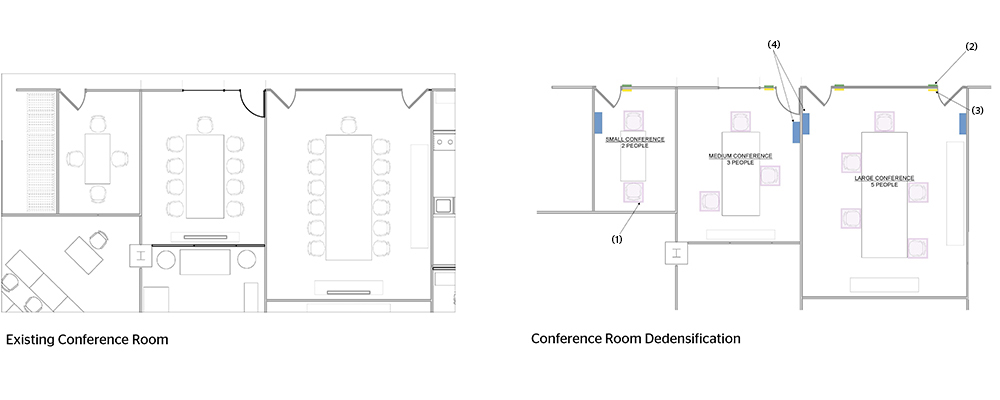 1: Mark the floor with a tape outline identifying the zone in which the chair and its occupant should remain (six feet apart). Visual cues like identifying safe zones, circulation paths in the flooring, and eye-catching signage will help people remember to follow the practice new standard.

2: Post visually appealing and easy to read signage at each entrance. Consider adding important information like the maximum amount of people permitted and reminders to disinfect door handles, tables, chairs, and any technology at the beginning of the meeting. Use bold, clear text for keywords, consider utilizing a slogan or COVID-19 cleaning campaign/checklist to drive the message home.

3: Post a similar sign at the exit to remind participants to clean the space after their use. To keep messaging fresh, consider swapping out signs weekly (or daily) with different colors or graphics to pique interest. Printing a daily list of scheduled meetings for the conference room may aide in the sanitizing effort.

4: Provide open top or foot-operated trash cans and a sanitizing station near the door for convenience and another visual cue. Consider wall-mounted equipment instead of those sitting on tables to ensure they remain in an accessible and prominent location, which will prompt usage. Remove any shared accessories. Fewer shared objects reduce the risk of spreading germs and lessens the amount of sanitizing required.
Vertical Circulation
Most elevator cabs do not afford multiple people the luxury of keeping a six-foot distance inside. Administrators will need to decide and communicate how many people are permitted in an elevator at one time and how often they should be utilized. Because of the frequency of use, shared air, and high-touch surfaces, usage and cleaning guidelines will need to be strictly adhered to.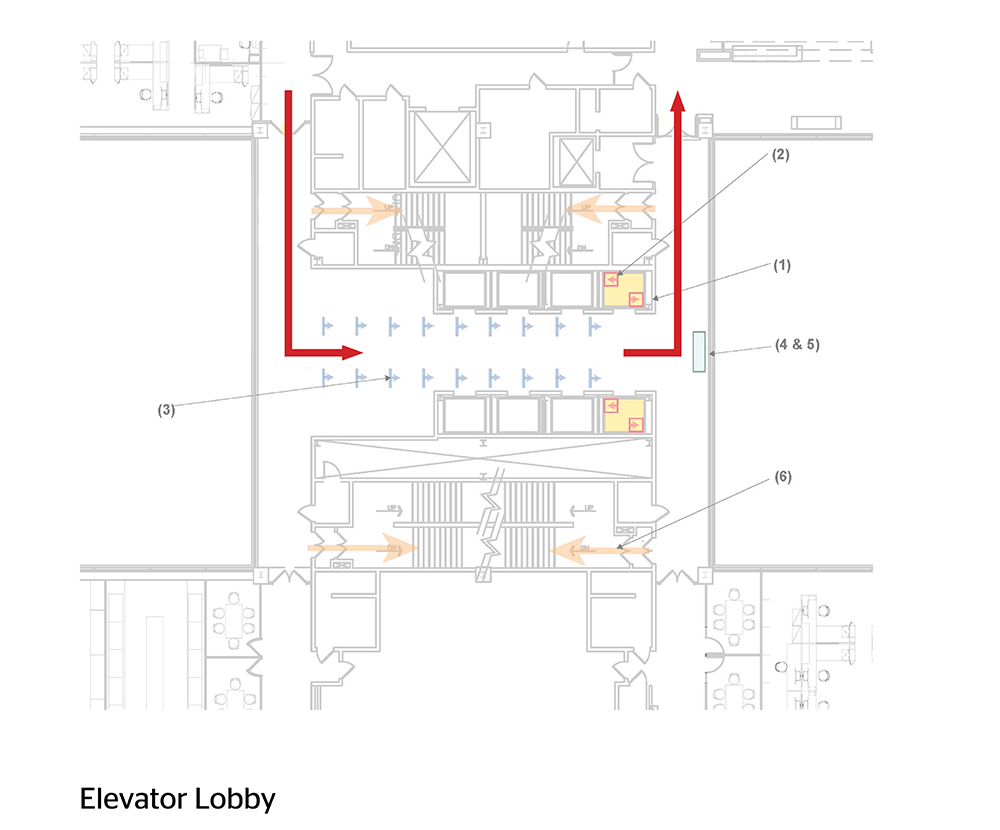 1: If possible, program the elevators for dedicated use to a certain floor.

2: If advisable to have more than one occupant, tape/mark the floor to identify standing zones and the direction occupants should be facing for optimal distancing. Consider staggering shifts to regulate usage.

3: Indicate a queue on the floor at six-foot increments for boarding the elevator. Prior to implementation, determine the time of an average express round-trip elevator ride and communicate that information, so people know the anticipated wait time based on their spot in queue.

4: Consider digital signage at the elevator lobby with changing messages to suit the needs for entry and exit reminders.

5: Provide sanitizing stations and trash receptacles upon entrance to the floor/suite.

6: Encourage use of stairwells, highlight their locations and provide gloves (for handrail grasping) and hand sanitizer at the exits.
Hygiene and Cleanliness
With returning to the workplace, the cleanliness and cleaning regimens of our office will understandably be a concern. So far, we know that increased hygiene and social distancing are the two most effective strategies for mitigating the spread of COVID-19, and we'll need to continue implementing those strategies upon our return to work until a vaccine is available and herd immunity takes effect. As an employer, we are doing our part to ensure our employees feel safe returning back to an office with dynamic workplace strategies needed to immediately address the heightened level of cleaning and sanitizing protocols.
Reinforcing good hygiene practices with bold signage and communications in areas of concern (kitchenettes, print rooms, restrooms) to offer friendly reminders.
Keep bathrooms well-stocked with soap, paper towels, and hands-free hand dryers.
Installing hands-free sanitizer dispensers at points of interest.
Providing disinfectant wipes, cleaners, and hands-free sanitizer with 60-95% alcohol content throughout the office.
Implementing occupancy limits to rooms where cleanliness is a concern (restrooms, kitchenettes, printing stations, etc.).