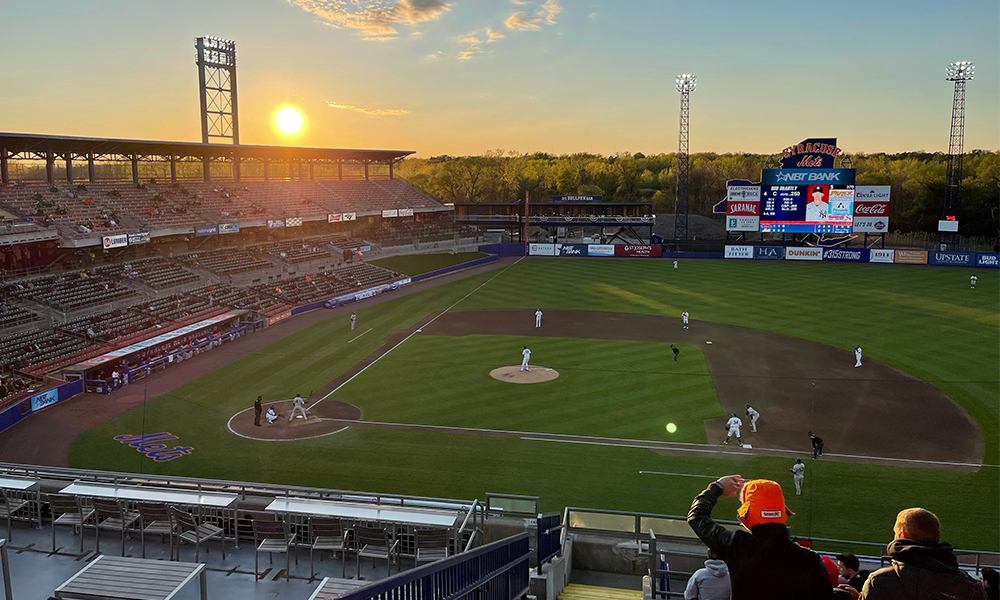 18 May

Syracuse Mets NBT Bank Stadium Debuts Major League Upgrade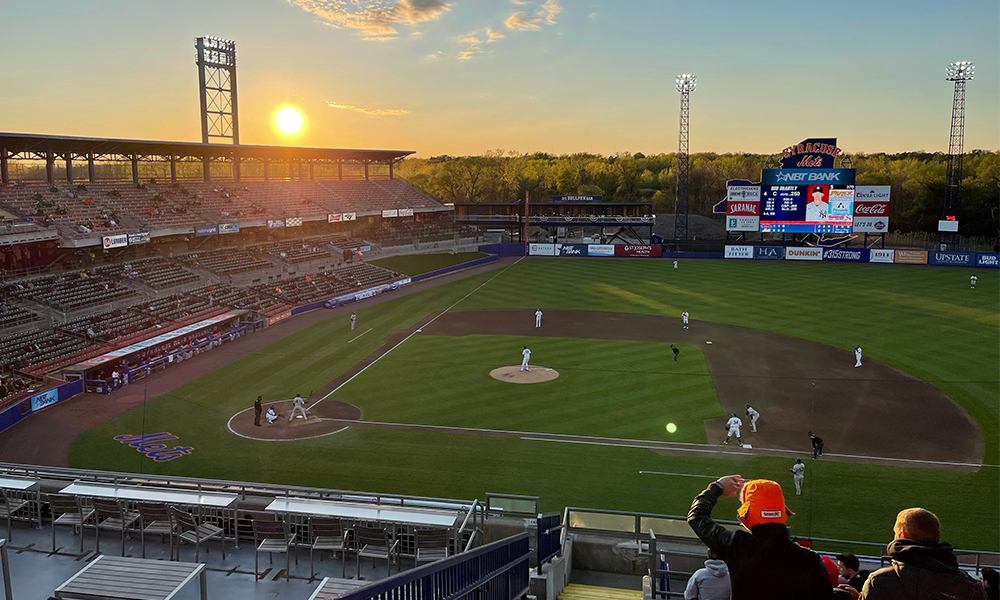 Syracuse Mets NBT Bank Stadium Debuts Major League Upgrade  
Syracuse, NY (May 2021) – The expectations of today's sports fans have changed.  Comfortable seating, good sightlines and convenient comfort facilities are the baselines, but today's modern fan expects more.  No two fans are alike so adding a variety of seat types, more casual places to gather, socialize and take in the game and new food & beverage opportunities are the new must-haves.  Catering to the wishes of all fans – long-time season ticket holder or new casual observer, young or old – was the goal behind the NBT Bank Stadium renovation and expansion project. The debut of the upgraded 10,815 seat park was originally planned for the 2020 season, but stalled due to the COVID-19 pandemic. While public health remains a top priority for the organization, the Syracuse Mets are eager to safely welcome fans into their new home on May 4th.
The ballpark, which opened in 1997 and had never seen a renovation since, became home for the Mets in 2017. The Mets teamed up with the designers at EwingCole – an award-winning architecture, engineering, and interior design firm to deliver a baseball experience worthy of the organization's fans. EwingCole's architectural, structural engineering, experiential graphic, and sports lighting design transforms Onondaga County's AAA Minor League ballpark into an exceptional, state-of-the-art fan-focused facility.
"EwingCole's recent work at the Mets' spring training facility in Port St. Lucie, FL, served as the foundation for this project," said EwingCole Principal Craig Schmitt, RA. "Beyond providing the most comfortable experience for the fans, we wanted to create as many opportunities for them to take in the game while having a fun family outing."
The renovation extends inside and out, adding a variety of new amenities. An expanded home plate entry plaza and new accessible right field entrance with new lighting and landscaping welcome fans from the moment they arrive while the Mets' blue and orange signage and branding adorn the surfaces throughout.  The Hank Sauer Club has been completely rebuilt, expanded in size, and rebranded as the Metropolitan Club and is connected to a new Syracuse Hall of Fame and the new Salt City Deck. NBT Bank Stadium, formerly MacArthur Stadium, has been the home of Upstate New York baseball since 1934. The Hall of Fame celebrates Salt City's rich baseball history by providing an accessible home for the memorabilia and artifacts collected over nearly a century.
A variety of new seating options have been added, providing fans a multitude of locations to enjoy the game.  Behind home plate, fans now have access to premium, 4-Topp table seating. In both left and right fields, a new synthetic turf berm provides fans with a comfortable place to spread out and enjoy the game picnic style. Overlooking the left field berm, three rows of drink rails for standing room only, or private events provide an incredible view of the newly replaced field, highlighted by a best-in-class LED lighting system. Continuing around left field, fans can access the 315 Bullpen Bar, where they'll find pristine views of both the field and players bullpen from new drink rails and bar seating. In right field, the fully renovated Metropolitan Club is the perfect indoor/outdoor space for large groups and private events. This club – usable year-round – comfortably accommodates nearly 200 people and includes a full bar and buffet area along with three large garage doors that open to a seating terrace. Right field is also home to the brand-new Salt City Deck, a 4,050 SF deck and bar for large groups to enjoy. Additionally, all 20 of the ballpark's upper-level suites have been completely upgraded with new seating, cabinetry, lighting, and finishes with subtle tones of the team's colors. Along the main concourse, the existing team store has been expanded in size with a bold new curved glass storefront that invites fans to shop for their favorite Mets' gear.
"We lend the success of this project to the close and collaborative relationship we have with the Mets' organization and with leadership at Onondaga County. The Mets wanted their fans to be fully immersed in their brand and the summer fun that is attending a Minor League Baseball game, and we think we have accomplished that," said Schmitt. "After all of the work that has gone into this project and after an extra year of waiting to see it in action, we're really looking forward to seeing their reaction."
# # #
About EwingCole:
EwingCole, in practice for 60 years, is a nationally recognized, fully integrated architecture, engineering, interior design, and planning firm of more than 450 professionals in Baltimore, Charlotte, Irvine, New York, Raleigh, Philadelphia, Pittsburgh, and San Diego. Our multi-disciplinary practice is built on the core values of professional excellence, design quality, and collaboration. Our goal is to provide the best total solution for our clients, the community, and the environment.