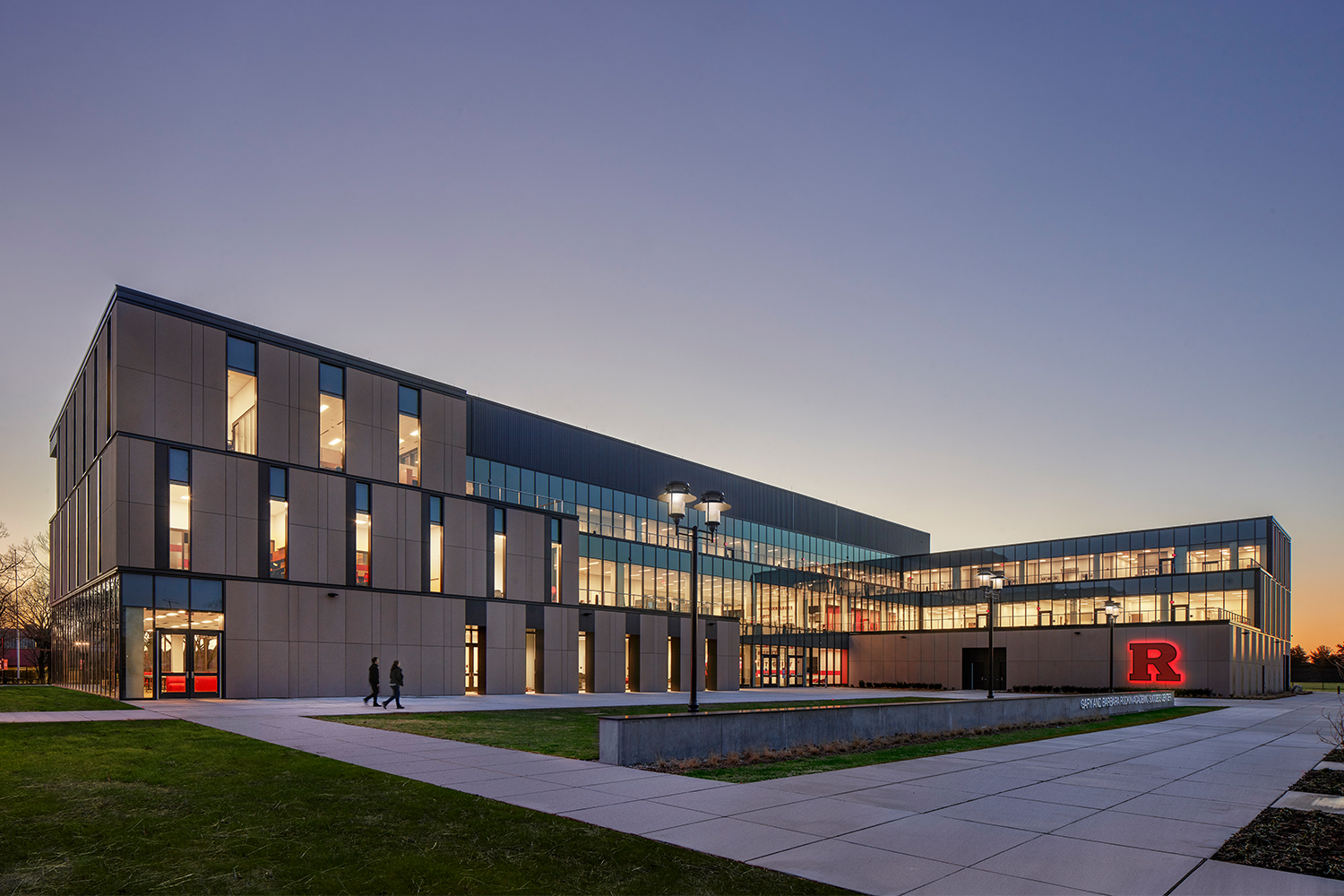 11 Feb

Newly Unveiled Gary & Barbara Rodkin Academic Success Center Serves as a Beacon to Rutgers Athletics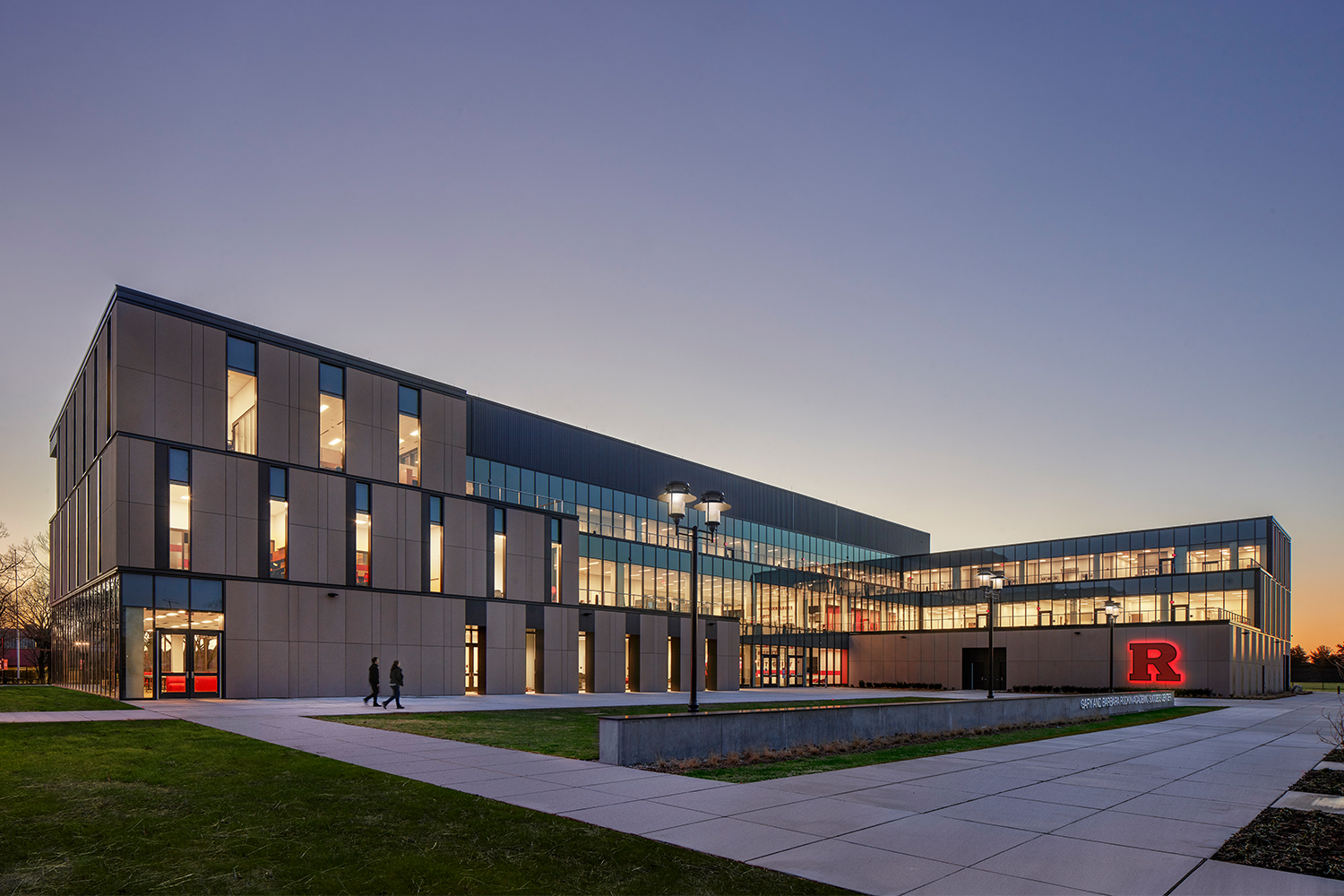 Newly Unveiled Gary & Barbara Rodkin Academic Success Center Serves as a Beacon to Rutgers Athletics 
The Success Center is set to become the hub of academic activities for over 650 student-athletes.
New Brunswick, NJ (February 2021) – Greeting the Scarlet Knights as they returned to campus for the Spring 2021 semester is the new Gary & Barbara Rodkin Academic Success Center (RASC). For the first time, student-athletes have access to a modern facility, which provides the resources they need to excel academically.
The RASC reinforces the University's goals to improve academic outcomes, personal growth, and student wellness. The 80,000 SF facility consolidates educational support space for all 650 student-athletes.
"Rutgers Athletics is committed to academic excellence, and this building, with the generosity of Gary and Barbara Rodkin, provides all of our student-athletes with an unparalleled, best-in-class academic support program," said Rutgers Athletic Director Pat Hobbs. "You only need to take a few steps inside the state-of-the-art facility to realize what a game-changer it is for our current and future Scarlet Knights. The opening of the Gary and Barbara Academic Success Center represents everything our athletic department stands for as we continue to write the greatest chapter in Rutgers Athletics history."
This innovative facility is the second initiative to be realized from Rutgers' 2015 Athletics Master Plan and stands as the bellwether facility for Rutgers Athletics. Serving as a bridge between the academic and athletic campuses, the RASC includes practice and academic performance space.
"The focus of the EwingCole/Natoli design-build team was to advance the existing design and bring this space to life by creating a vibrant atmosphere that facilitates student success," said EwingCole's director of sports & entertainment William McCullough, AIA. "Additionally, as the flagship facility on the athletics campus, we wanted to take this space beyond the standard and make sure that the student-athletes felt a deep, celebratory connection to the Rutgers' identity."
The building defines a sense of place at Athlete's Glen, connecting the academic north campus with the athletic south campus. Located on Scarlet Knight Way, the RASC is punctuated by a glazed curtain wall allowing for a dramatic visual connection to indoor activities and the surrounding athletic campus. Terraces on the north and south side of the building overlook the Athlete's Glen and surrounding sports complex.
As a world-class athletics and academic facility, the RASC is a new recruitment tool for prospective students and a source of pride for current ones. Each corridor or room was an opportunity to tell Rutgers' story and illustrate Rutgers' championship culture. The EwingCole Experiential Graphic Design team did this by creating an inspirational, high-energy atmosphere with Rutgers' branding and history on full display in a sophisticated, integrated and yet bold way.
The two-story lobby, bathed in natural light, welcomes visitors to a visually stunning and flexible multi-purpose space with varied seating arrangements decked out in team colors – scarlet, grey, and black. This expansive lounge area design fosters peer-to-peer learning among student-athletes from all sports. Along the corridor to the multi-purpose room, the elegant Fireside Commons provides a living room-style lounge and study space. Wooden walls, housing framed black and white photos of Rutgers' athletes, and a modern fireplace create a sense of calm and comfort to relax and study. Students also have access to a lively, café-style, fully-outfitted nutrition bar.
The opposite side of the first floor serves as the main junction to the athletic facilities. It houses a year-round locker room or the men's and women's soccer and lacrosse teams combined with a high-functioning strength and conditioning facility, a hydrotherapy area and a sports therapy treatment space. As they are guided through a scarlet corridor to their various team locker rooms, trademark chainmail and depictions of Rutgers' Olympic alumni and All-Americans in sports and academia serve as a reminder of what student-athletes can accomplish. With input from the coaches and players, the locker rooms showcase their individual personalities through colorful messages such as "forever family" or "brick by brick" and customizable digital screens. Each locker room also includes a central lounge with comfortable seating surrounding a video monitor to review game footage or hold pre-game meetings.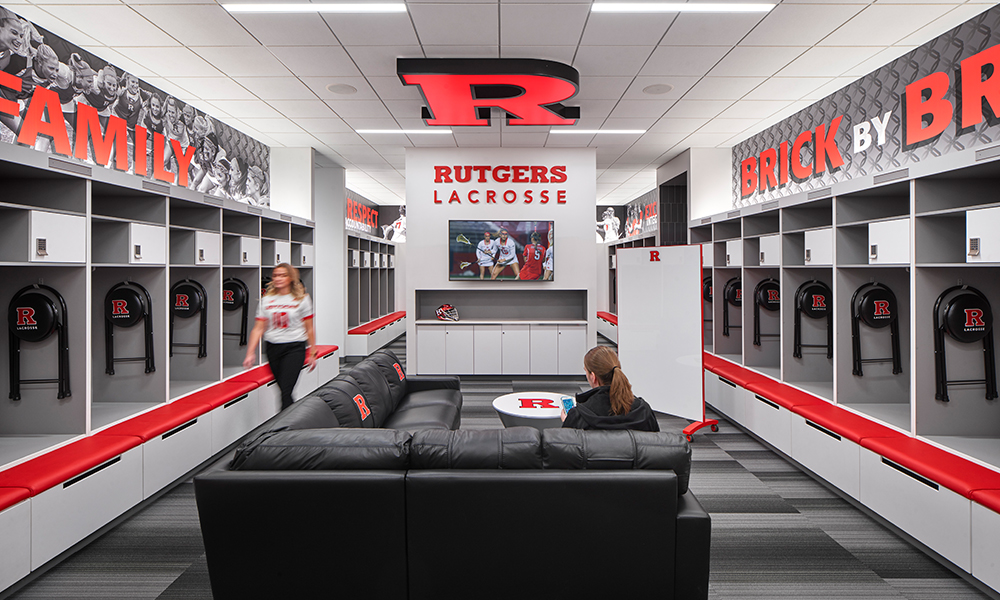 The stairwell in the main lobby leads to the second floor and is flanked by a two-story dimensional word wall featuring the Rutgers athletics core purpose, highlighting key words and phrases – Excellence, Integrity, Respect, Accountability and Grit. The second floor is composed of a variety of private to semi-private study spaces that support academic advising, learning specialists, one-on-one or group tutoring as well as workshops and seminars. Active group environments include furnishings with interspersed writable whiteboard surfaces for students to discuss and collaborate.
The third floor connects athletes and students to the coaching staff, conference spaces and athletics administration offices. Rutgers' branding is delicately integrated throughout the area. Here, a key element includes the film room where teams will kick off their seasons reviewing competitor and gameplay footage. Rows of black, theatre-style seating, marked with the renowned scarlet 'R,' descend on the main screen. The halls outside provide visually stunning and dramatic views of the surrounding athletic complex.
# # #
About EwingCole:
EwingCole, in practice for 60 years, is a nationally recognized, fully integrated architecture, engineering, interior design, and planning firm of more than 450 professionals in Baltimore, Charlotte, Irvine, New York, Raleigh, Philadelphia, Pittsburgh, and San Diego. Our multi-disciplinary practice is built on the core values of professional excellence, design quality, and collaboration. Our goal is to provide the best total solution for our clients, the community, and the environment.