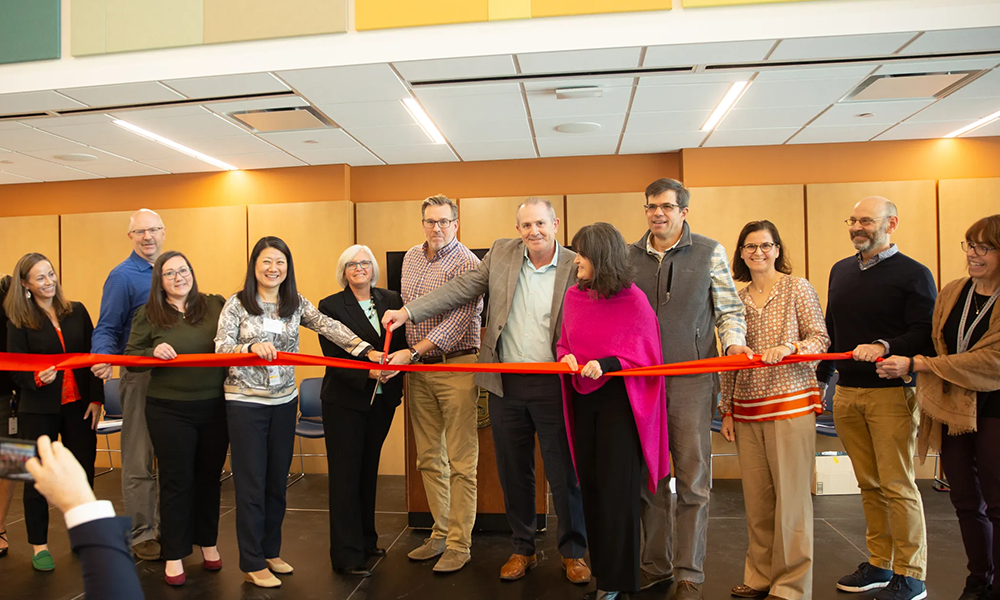 29 Nov

Lincoln School Cuts Ribbon on New, Net-Zero Energy Renovation Project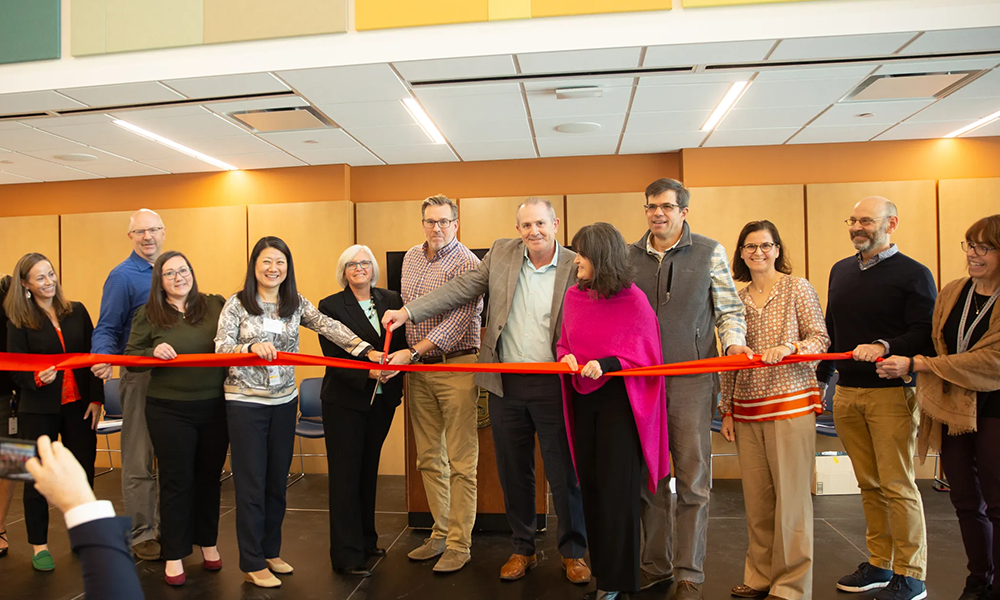 Lincoln School Cuts Ribbon on New, Net-Zero Energy Renovation Project
Lincoln, MA (November 2022) – The Town of Lincoln recently celebrated the completion of its middle school revitalization project at Lincoln School, grades 3-8. The project, collaboratively designed by architectural firms EwingCole and SMMA, revitalizes and expands the existing school while targeting Net Zero Energy building standards.
"This project is the culmination of input from the school district, the Town of Lincoln community, and a dedicated team of designers coming together to deliver on the needs of these students," said EwingCole Executive Vice President Keith Fallon, RA. "What we have now is emblematic of this community's values."
The school was constructed in the 1940s and last renovated in 1994. The School District felt that the facility no longer met the needs of current students, nor did it represent the values of the community. Architects from EwingCole and SMMA worked together to renovate and expand the existing building. The 165,175 SF revitalization project complements the school's original mid-century modern design while artfully updating its façade and interior layout.
"With strategic intervention to the historic building, the thoughtfully designed school building is now flexible and adapts with the students and teachers to become the learning environment they need," said EwingCole's Bill Smarzewski, AIA. "Every classroom is connected to a flexible hub space allowing reconfiguration and collaboration between students and teachers."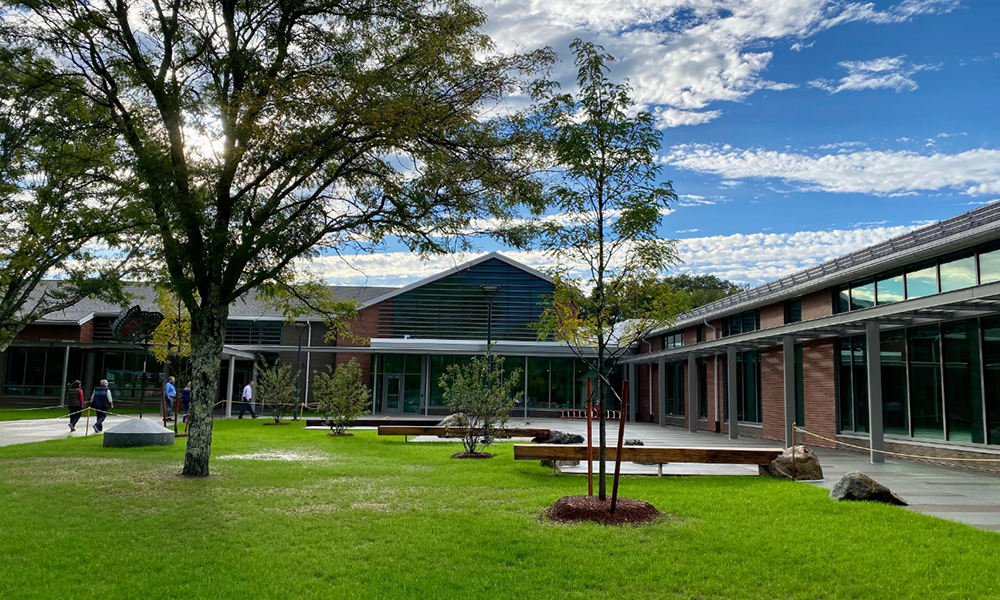 Net Zero Energy Ready
A topline goal for the school was to have a facility designed and ready to meet net zero energy standards. The design incorporates high-efficiency mechanical, electrical, and plumbing systems, an onsite solar photovoltaic roof, and a parking canopy system. A fully electric-operated kitchen in the new dining commons replaces the original natural gas fuel systems for heating and cooking. Most of the brick façade was removed from the building, allowing designers to add insulation and improve the thermal performance of the exterior envelope.
"The net-zero readiness means the school will serve future generations without creating harmful emissions and be a healthy and resilient learning environment," said Smarzewski.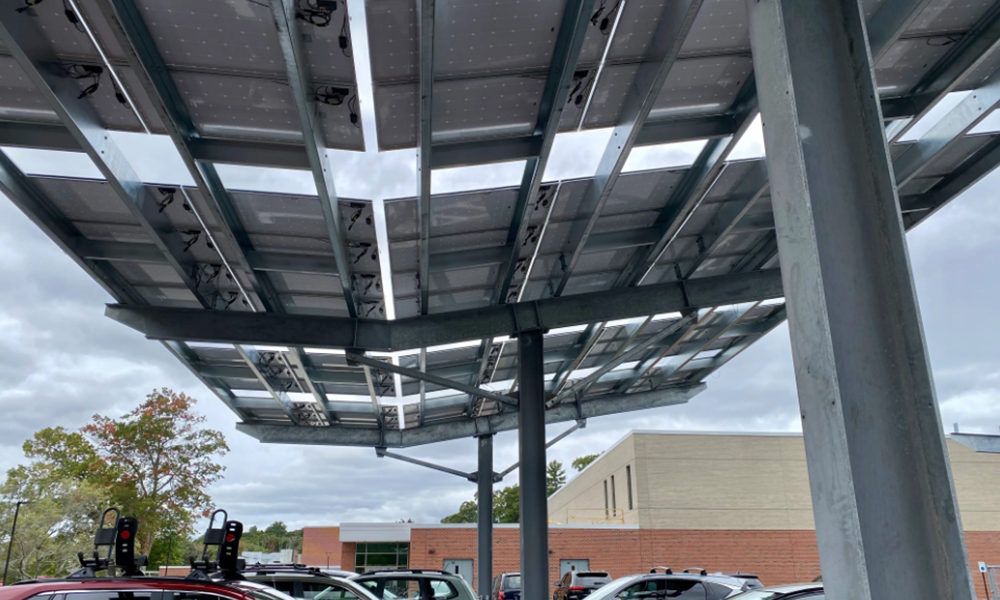 Fostering Connections to the Outdoors
A proud rural community, over half of the land within the Town of Lincoln is protected conservation land. This project not only reinforces the idea of environmental stewardship through building energy systems but through some of the tangible new elements accessible to students that take advantage of the surrounding natural beauty. These interactive elements include access to a boardwalk that winds through the adjacent wetlands allowing for outdoor learning, observation, and experimentation. Along with additional windows and a glass façade, many classrooms have secured doors connecting directly to the outdoors.
NextGen Learning Environment
Key to the ideals of Next Generation Learning environments is the integration of communal spaces shared among the different grade levels. Before the revitalization project, the buildings lacked a centralized entrance or gathering spaces. Adding a centralized core around a new main entry helps resolve longstanding challenges by improving the connection between the elementary and middle school learning environments. Students will find a learning commons, media center, and dining commons within that centralized core, establishing a "new heart for the school."