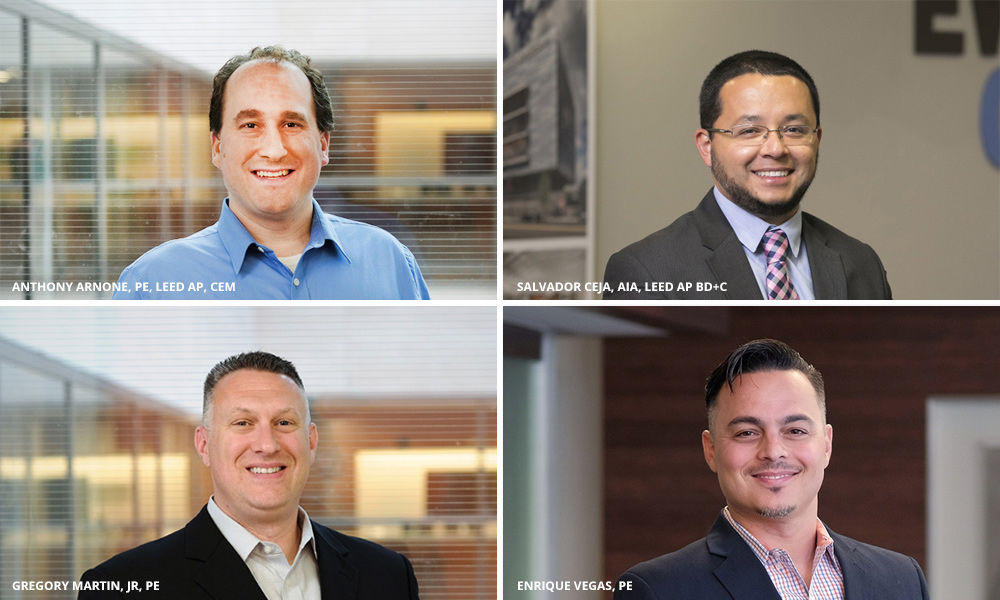 21 Jan

EwingCole Announces New Shareholders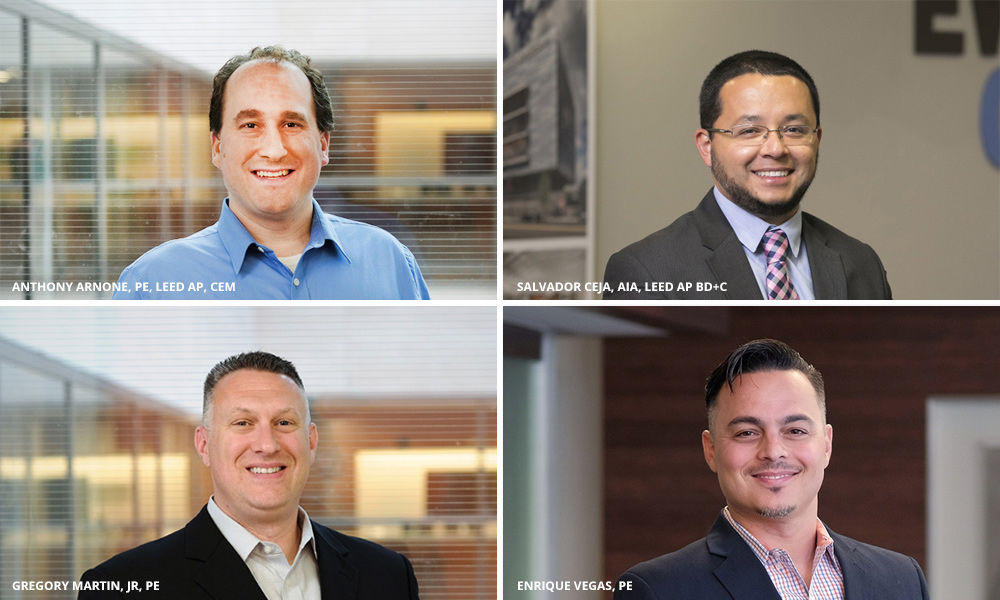 EwingCole Announces New Shareholders
Philadelphia, PA (January 2020) – EwingCole, one of the nation's leading architecture, engineering and interior design firms, is pleased to announce the addition of four new associate shareholders: Anthony Arnone – Philadelphia, PA; Salvador Ceja – Irvine, CA; Gregory Martin, Jr. – Philadelphia, PA; and Enrique Vegas, Philadelphia, PA.
"We are thrilled to add this group of highly experienced and talented individuals to our firm's ownership," said EwingCole president Robert McConnell, AIA. "Each one of them has worked with EwingCole for many years and has demonstrated the skills and ingenuity we look for when filling our leadership roles."
EwingCole is proud to acknowledge and celebrate their contributions to the firm's success and growth.
Anthony Arnone, PE, LEED AP, CEM: Anthony joined EwingCole in 2005 and has worked as an electrical engineer on projects across all practices. His passion for sustainable design has allowed him to lead the design for several of the firm's NetZero projects.
Salvador Ceja, AIA, LEED AP BD+C: As an architect, Sal joined EwingCole in 2010 and is an advocate for the firm's integrated A/E model. Although he has worked on both healthcare and science & technology projects, his current focus is the planning and design of cell and gene therapy projects.
Gregory Martin, Jr, PE: Greg joined EwingCole in 2000 after working as a structural engineer on a joint venture to design the Aker Philadelphia Shipyard. He currently leads the structural design group serving the government, sports & entertainment, and cultural practices and enjoys solving the engineering challenge these diverse projects present.
Enrique Vegas, PE: Enrique started working for EwingCole in 2002 as a mechanical engineer. Throughout his 17 years with the firm, he has focused primarily on the healthcare and science & technology practices with an emphasis on research laboratories and pharmaceutical projects.
###
About EwingCole:
EwingCole, in practice for nearly 60 years, is a nationally recognized, fully integrated architecture, engineering, interior design, and planning firm of more than 450 professionals in Baltimore, Charlotte, Irvine, New York, Raleigh, Philadelphia, and Pittsburgh. Our multi-disciplinary practice is built on the core values of professional excellence, design quality, and collaboration. Our goal is to provide the best total solution for our clients, the community, and the environment.