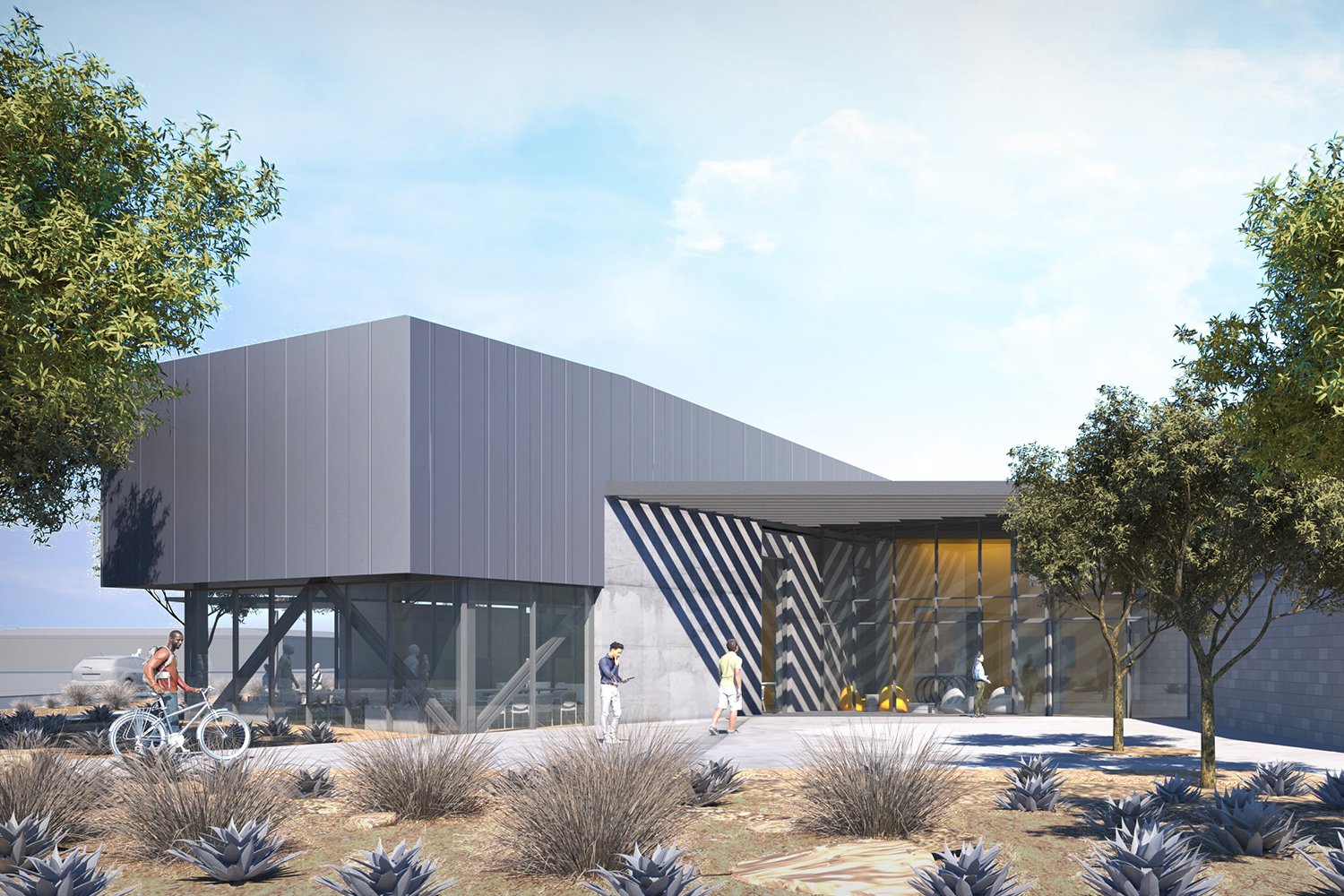 After Devastating Earthquake, Jacobs-EwingCole JV Assists Rebuilding Naval Air Weapons Station China Lake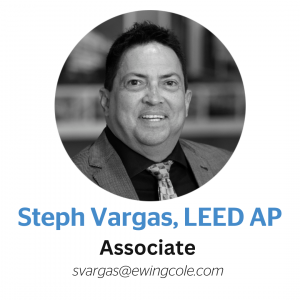 Two earthquakes in July 2019 rendered several facilities at the Naval Air Weapons Station (NAWS) China Lake in Southern California unable to support the Navy's operations and were deemed unsafe for use. One of the quakes, a 7.1 magnitude tremor, was the largest in the region in 20 years and was felt from Sacramento to Mexico, prompting an evacuation of the base. NAWS China Lake is roughly 1.1 million square miles – making it the largest piece of Navy-owned land in the United States – and according to Navy estimates, suffered approximately $2 billion of damage to its critical military and weapons testing infrastructure.
The Jacobs-EwingCole JV was retained to master plan and assist with the design/build of several facilities on the base that needed to be torn down, rebuilt, renovated, and repaired. There were several Morale, Welfare and Recreation (MWR) Facilities in addition to an Academic Training Facility that needed to be replaced and JV Partner EwingCole's unique capabilities in these building types enabled a rapid response as part of this recovery. EwingCole developed the DD1391 Planning documents and subsequent design-build RFP, providing architecture, structural, mechanical, plumbing, electrical, fire protection engineering, and interior design support to roughly 148,000 SF of facilities on the base. Because of the base's significance to military readiness and technological development, the team developed an accelerated schedule without sacrificing U.S. Navy's performance specifications.
"The Navy's top priority was rebuilding the damaged facilities as quickly and efficiently as possible. In response, we rapidly deployed subject matter experts from across the country and, with our unique client engagement program, validated the program, facility requirements, and design-build bidding requirements in a five-day charrette," said John Capelli, AIA principal, and government practice leader at EwingCole.
Emphasis on Community Morale
NAWS China Lake offers active duty, reservists, retired personnel, Department of Defense (DoD) employees, dependents, and family community services that promote and enhance their physical and mental well-being and spiritual enrichment. These facility components are critical to maintaining morale and fostering community among those living on post. Among numerous other projects, EwingCole redesigned two of China Lake's facilities that were red-tagged or deemed unsafe for occupancy after the earthquake: The Fitness Center and the Multipurpose Religious Facility.
The facilities were designed in coordination with key stakeholders and military personnel. EwingCole's proposed facilities plan supports the Navy's Morale, Welfare and Recreation mission and a new multi-purpose Religious Facility supports the Command Chaplain's religious ministerial services.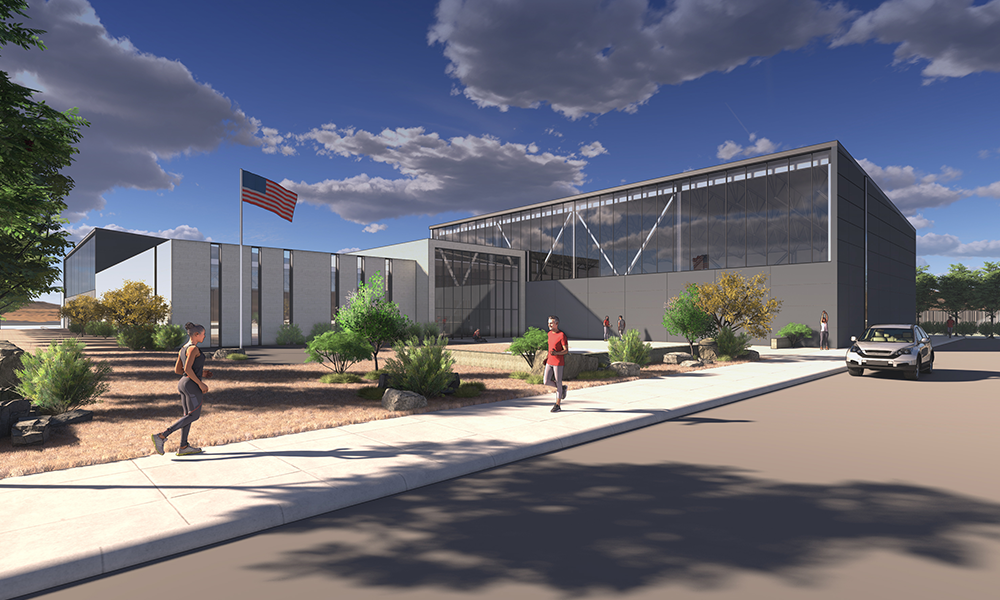 Fitness Center
The 37,632 SF fitness center provides recreational activities for the fleet and family members. It includes basketball/volleyball courts, a racquetball court, a fitness and group exercise space, an indoor pool, and support and administration spaces.
The open floor plan concept provides visual connections between the basketball courts, fitness area, group exercise space and the pool from a central circulation space. The front desk is positioned for staff visibility to the main entry, a secondary entrance for access to the existing exterior recreation fields, and visual awareness of all the activity spaces.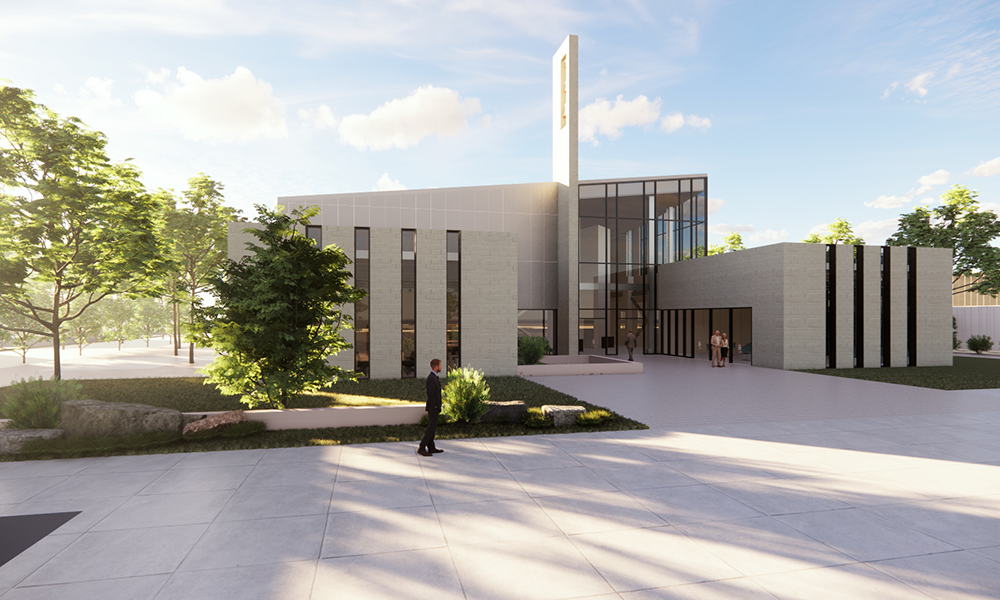 Multipurpose Religious Facility
The existing All-Faiths Chapel sustained heavy damage and was red-tagged for demolition. For 63 years, it was considered a landmark by the base community. The new 14,190 SF facility is designed to accommodate multiple faiths, differing sizes, and types of services. Additionally, the design provides for each faith's unique ancillary functions.
In the new design, worshipers move through the concourse from the main entry and into Fellowship Hall – a gathering space for congregants after their respective services. Fellowship Hall is designed to foster interaction between religious communities on base. The administrative offices are strategically located to allow direct access for community members to visit with their religious leaders for day-to-day consultation in a private environment.
The Fitness Center and the Multipurpose Religious Facility are considered Community Support Facilities and are located with other community spaces such as the Naval Exchange and dining facilities. The Fitness Center anchors one end of the complex, while the centralized Multipurpose Religious Facility is recessed with a landscaped courtyard and bell tower to distinguish itself from the other community facilities.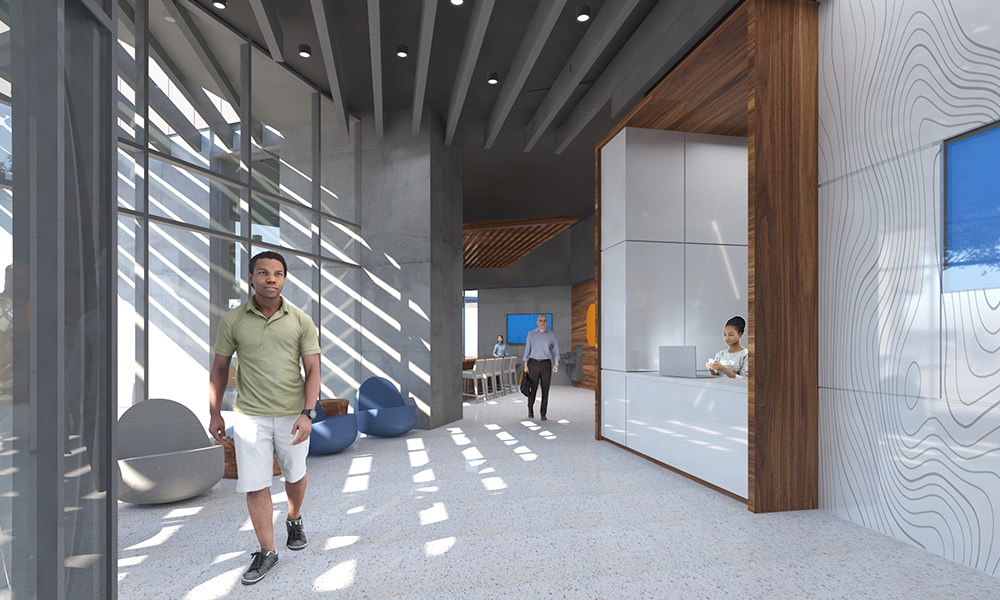 Academic Training Facility
In addition to the two Community Support Facilities, the team also designed a new Academic Training Facility to replace the existing earthquake-damaged facility.
The Academic Training Facility is a center of excellence aimed at bolstering the base's technical capabilities through appealing spaces for learning and growth. The goal of the building is to provide flexible space for classrooms and conference rooms, promote innovation and provide a center for onboarding and community building. The facility supports the requirements to educate, using the latest technology, while acting as a collaborative environment with an appealing learning culture.
The Academic Training Facility consists of The Community Learning Center and the Training Center. The Community Learning Center will foster team building and exploration, including an applied technology lab, independent study lab, conference rooms, administrative space, and break rooms. The Training Center will provide learning events for over 6,000 employees and 250 military personnel with cutting-edge learning programs from the latest energetics/ballistics to the most novel software and network capabilities. It also trains over 300 recent science and engineering graduates through a five-year professional developmental program.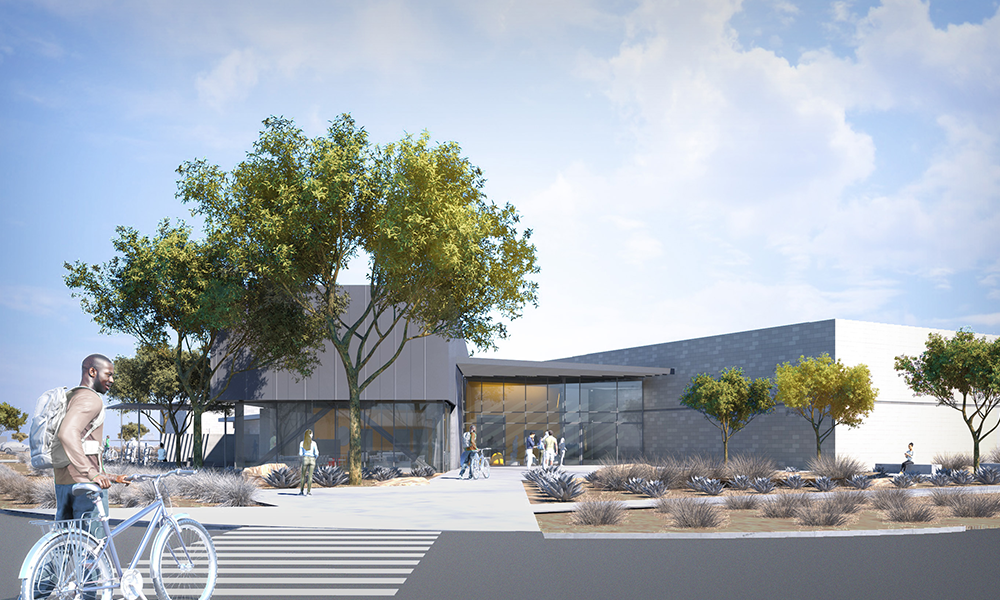 Sustainable Design
The building designs integrate sustainable strategies and features in order to achieve a Third-Party Certification consistent with the Naval Facilities Engineering Systems Command (NAVFAC) High Performance and Sustainable Building checklist goals. Among these includes an optimized energy performance system that provides a 30 percent energy savings below The American Society of Heating, Refrigerating, and Air-Conditioning Engineers (ASHRAE) 90.1 baseline, through the building envelope design and energy-efficient HVAC design. The design also uses water-efficient fixtures, landscape, daylighting, and automatic dimming controls.